Vino In My Dino
January 31, 2022 08:49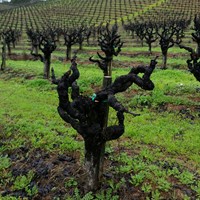 A little play on words as the month ends. Dry January is the term applied to an abstention from alcohol shortly after the holidays and is a movement that has gained some traction in recent years. However these words mean something different to me as we enter February with a half inch of rain under our belts. As a reminder we already received 20 inches in the last three months of 2021-a boon to all of us here in drought stricken California. This is more than we received in total rainfall for the 2020-2021 season.

Historically this month sees more rain than a half inch. However the season of winter just began and we have a couple of months to go before the vines begin their growing season. The rush to judgement of this rain year (headlines and Henny Penny the sky is falling) makes me nervous so I enjoy digging into my files for little tidbits of weather history. I found this one from my blog post in January 2016. We had just over 6 inches of rain that month-it took another three years before we had a similar rainfall amount and, in the years leading up to this month in 2016, the total was more than measured in the previous 6 (!) Januarys. 

It is a delicate balance indeed when we, as farmers, depend on the weather to bring the right amount of rain at the right time. This doesn't always happen and there are many examples over the 95 years we have farmed our vineyards when we didn't have enough, had too much or it rained at an inopportune time i.e. during harvest. In our area of Dry Creek Valley we depend on wells to deliver water to our vineyards during the growing season and they depend on 35 inches of average rainfall which fill the underground caches as well as keeps the soil quenched.

Over the decades we have shifted from dry farming to overhead irrigation to a drip system which delivers a regulated flow of water when needed. The great part of drip irrigation is it allows control-the vineyard manager decides how to efficiently deliver the right amount to keep fruit quality at optimum levels during the summer season. Too much water is just as bad as too little. The help we get from the rain season is saturation of the ground and getting the dormant vines to soak up the nutrients they need for the next year's grapes. Cycles and different outcomes are a way of life and water continues to be a precious resource.

In a dry January we look toward the coming weeks to bring us  rain. Mother Nature can be fickle as can the high pressure system in our Central Valley which pushes storms north of us. We are in a La Niña cycle and predictions call for a below average amount of rain. May the odds be in our favor for more, please and thank you.
Categories
Recent posts
Popular tags