Vino In My Dino
July 26, 2018 13:54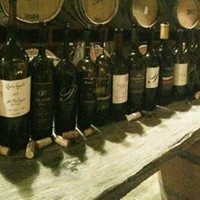 I consider myself lucky being here in the wine country. Invitations for tastings like the Cabernet Sauvignon Round Up hosted at Passalacqua Winery featured mostly Dry Creek Valley Cabernets with a sprinkling of some 'outsiders' from the Alexander, Russian River and Napa Valleys.
I tasted through Cabernets ranging from a 2011 vintage to 2015 with a library 2007 thrown in for good measure as well as a magnum. It was a wide-ranging field for the King of Red Wines. I sipped and spit my way through 33 of them and came across some favorites. And to be fair I will not be 'naming names' because I didn't take extensive notes (I was 'speed tasting') and because I wanted to just take notes about Cabernet Sauvignon without the brand being a thing.
The first wine that stood out to me was the one from the 2011 vintage. This was a cooler vintage and in fact it rained on a lot of Cabernet as most of the fruit wasn't ready to be picked and had to wait out the rain, the ensuing mud and we all wanted it to ripen up a bit more before taking in the grapes. This one had what I thought was the perfect 'dried cherry' center. It was the lightest in color of all the others, wasn't overwhelmed by new oak and when tasted left the most pleasant cherry essence. I immediately thought it would pair well with grilled salmon. The second wine that claimed my palate was a 2013 from an area of Dry Creek Valley that is quite steep. It had all the qualities I look for in Cabernet-it had dark fruits like plum and berry but tinged by a touch of tannin which balanced with the correct acidity. I thought of a pork chop and mushroom sauce.
A third from the 2015 vintage seemed to embrace the personality of the vineyard, located mid-valley, and featured the concentration this vintage is known for (the drought reduced production and the resulting wine, without enough rain, showed intense fruit). With that in mind I paired this with tri tip and roasted potatoes.
One from 2014 kept drawing another sniff of the glass. Concentrated like the 2015 vintage it was softer and more supple with those dark fruits showing through like boysenberry pie. This would go well with prime rib or a t-bone steak.
Others reflected oak notes both big and bold as well as soft and muted. Overall I could detect that bit of rotundone (think peppery) in most of them-except for the 2015s which were the most concentrated. That hint of herb defines Dry Creek Valley Cabernet for me and sets it apart from other appellations that are warmer and to the east of us. I appreciated the chance to taste and compare.

Categories
Recent posts
Popular tags