Vino In My Dino
January 27, 2020 12:03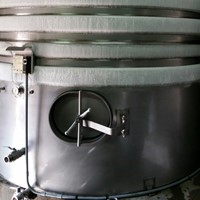 The 2019 harvest seems like it just happened yesterday but here we are in February bottling up the Sauvignon Blanc and Rosé. The 2018 harvest is a bit more distant in memory but now the red wines have had their year in the barrel and are being bottled up. Join me in finding out more as we are Bottling Up the Vintages.
I asked winemaker Montse Reece to jot down some notes on each of the vintages. Well 2019 was a late start harvest. We started picking Sauvignon Blanc September 4th, about one week later than previous years. In 2019 everything matured slowly and that is good news for highly aromatic varieties like Sauvignon Blanc, Chardonnay, Gewurztraminer and early pick Zinfandel for Rosé. This is a very aromatic and full favored vintage. The reason is because during this harvest, we didn't have any major heat wave challenges and temperatures were cool at night. This kept acids on track and added extra freshness to the wines. Very nice vintage overall.
The 2018 vintage was a little warmer than the 2019, but without major heat spikes or other weather challenges from previous years. Here is the link to the blog post on the harvest wrap up. The 2018 wines coming out from their time in barrel are showing nicely, with high concentration of fruit flavors and spices in all reds while keeping the acids and alcohols in balance. Bottling up vintages and coming to you soon with the 2018 reds releasing later this year and the 2019 whites and rosé making their way in the next couple of months.
Note: The photo at the head of this post is of a temperature controlled stainless steel tank. One of the final stops on the way to bottling white wine is the chill down as seen here. Those bands are frozen for a reason-it drops tartaric acid out of white wine and Rosé so that you have a clear glass of wine in front of you, and no 'wine diamonds' get in the way of your first or last sip.
Categories
Recent posts
Popular tags