Vino In My Dino
October 29, 2018 13:39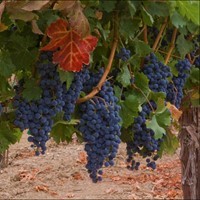 We completed this year's harvest on October 9th with a final load of estate Cabernet Sauvignon. Our vintage wrap up includes comments from winemaker Montse Reece and Vineyard Manager Lance Blakeley. Get the harvest scoop from the people who know.
I will begin by saying there is one word that describes this harvest perfectly: abundance. This coming from an abundance of fruit and an abundance of good weather to bring in the fruit-yes a little rain fell in September and timing was good-we only had a few of red wine varietals on the vine including our Cabernet Sauvignon and Petite Sirah still hanging and these grapes are built for this type of challenge! We began with Sauvignon Blanc on August 30 and finished on October 9 with Cabernet Sauvignon. It was quick and chaotic at times and when it cooled down mid-September the weather extended hang time nicely.
From Lance Blakeley comes his comments as the Vineyard Manager. In production all varietals were above average anywhere from 5% to 15% stemming from spring and summer growing conditions that led to a great crop set. Labor went fairly well as we teamed up with some other local growers to share some of their pickers. We machine harvested 15 acres and all went well in quality. The younger cabernet sauvignon blocks really stood out to me this year as did the merlot which got plenty of hang time and tasted outstanding. Our wine yields were good too as we had full bunches with very little, if any, shrivel or raisining.
From Montse Reece her comments as Winemaker. This harvest we had more consistent weather without extreme heat spikes like last year. That reflects on the quality of Zinfandel which was exceptional and also the wine yields that were up by 20% over all varietals with respect to last year's. We did see some challenges especially accommodating the bigger crop across the board but do note the Zinfandel came in at normal tonnage as we had less in 2017. This harvest all grapes, but in particular Zinfandel, were back to a normal cycle of ripening with mild to hot days and cool nights, that translated into a slowing ripening and a better retaining of the acids and phenols. This year I see impressive balanced wines with moderate alcohols and beautiful integrated acids.
As with Zinfandel the good weather cycle this year elevated the acid, flavor and aromatic profile of the grapes. Cabernets had an extended hang time to reach their maturity and as a result we'll see more concentrate flavors, colors and bright acidities. A vintage to look forward to.
And with these comments we close the book on Vintage 2018. I, for one, am looking forward to tasting the first wines released from this harvest early next year.
Categories
Recent posts
Popular tags