Vino In My Dino
August 27, 2019 13:35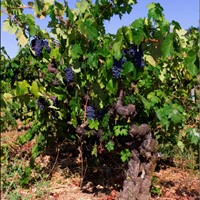 Our first Zinfandel harvest was in 1927 shortly after my grandfather purchased the property. 92 years later we are still harvesting Zinfandel-the rest is our story.
During those early days, when Prohibition was still in place, the grapes were sold to head of households who had obtained their government permit to make 200 gallons of wine. From Repeal onward Zinfandel has been a central grape on our estate and in our line of wines. There are many high points and challenges in the last 92 years for this varietal when the grapes were selling for low prices, the yields weren't as high as we wanted or the weather didn't cooperate. Then there are glorious, highly lauded harvests, every farmer's dream, where the weather and growing season came together beautifully and produced a bounty of fruit perfectly ripened.
There are three generations of Zinfandel on our Home Ranch: the original dating to the early 1900s with very few vines left but most of them over 100 years old; the second generation, nearing 40 years old, was patterned after the original vineyard using budwood from the old vines as well as neighbor's vines and finally the newest which was planted with the Rockpile Clone, a hearty hillside choice with distinctive bunches and DNA to bring out the best in this grape. Known as our Mother Clone vineyard it is mostly head pruned (goblet trained or bush vine to the Aussies) along with some experimental blocks that are trellised.
As we get ready for vintage 2019 I am looking out over the Mother Clone Zinfandel vineyard. She has a lot of stories to tell! My grandfather's days of bringing in the boxes of grapes aided by the whole family including young sons John and Jim entailed great effort; son John's first crush as winemaker was in 1948 and he along with 2 other men processed 800 tons-as he said in his Oral History it was 'a heckuva crush'; Jim recalls very cold and rainy harvests especially in 1964 when it rained and made it difficult to ripen and pick-one of the latest harvests on record that year at the end of October; the drought of the mid-1970's which produced fabulous vintages but lower production; the 1980s at first brought above average rain and abundant harvests to a drought at the other end and 1985 stood out as the best of the decade for Zinfandel; on to the 1990s with the '97 vintage considered the 'vintage of the century' because everything aligned from production to perfect weather but there were other standouts like 1995 for Zinfandel-considered one of the best due to great growing conditions again; in the next decade we saw one of the earliest harvests on record (2004) and one of the best of the decade-2005 (there seems to be a theme of years ending in '5') with remarkable quantity and quality; the last 9 years have brought a long period of drought which in turn gave great concentration to our Zinfandels as well as a couple of heat spikes that virtually fried the vineyard after a long cool summer (2010) as well as high temperatures over the 2017 Labor Day Weekend prompting the vineyard and cellar crew to pick the Mother Clone vineyard as soon as possible.
Today I can see the vineyard is in the final week or two of ripening. I can tell by the way the canes are beginning to droop and the bunches are turning deep purple. This is turning out to be a good production year for our Zinfandel with a late start to the growing season and a normal picking time expected in a couple of weeks. My judgement on the vintage is reserved until after fermentation is over. I'll look forward to this vintage like my father and my grandfather before me-with a farmer's eye and an appreciative palate.
Categories
Recent posts
Popular tags