Vino In My Dino
March 18, 2016 16:57
Women's History Month is proclaimed by our President each year to celebrate the achievements and contributions made to our great nation's fabric. Women winemakers are very innovative and ground breaking the world over and yet unsung in their own right. Three women who chose winemaking in one form or another can be found in my family and winery. My cousin Maureen graduated from UC Davis with her degree but chose another path by also attending culinary school in New York and becoming a pastry chef. Our daughter Adrienne graduated from Cal Poly San Luis Obispo with a chemistry degree and is now the winemaker for Rideau Vineyards in Solvang. Montse Reece, a native of Spain who was hired by John Pedroncelli (Senior Winemaker, 1925-2015) and was named winemaker a year ago after working 8 harvests here.
For great information on these and other women winemakers there is a website founded and maintained by Professor Lucia Albino Gilbert, Ph.D, Santa Clara University, entitled Women Winemakers of California. There she, and her husband Professor John Gilbert, Ph.D, collect data, articles and studies on the number of women in this male dominated area of the wine industry. As it says on their website, "Our searchable web-based resource introduces you to California's talented women winemakers and their accomplishments. We also provide the most comprehensive and accurate information currently available on women winemakers in California, the wineries for which they craft their wine, where they are located within the state, and the evolution of their careers."
I encourage you to read a case study published last May by the Gilberts from a sampling of 480 wineries in California. It showed an increase of about 4% between 1999 to 2014 in the number of women hired as winemakers. While this seems to be a small increase it is considered an important one. In another 10 years I hope more are added to this number. For now we are proud of the wines made by Montse and Adrienne. They are exciting to taste and we are looking forward to future achievements on behalf of our family and family of wines. A toast to them and the women winemakers here in California and beyond!
Montse taking a sample from the Wisdom Cabernet Sauvignon during the 2015 harvest.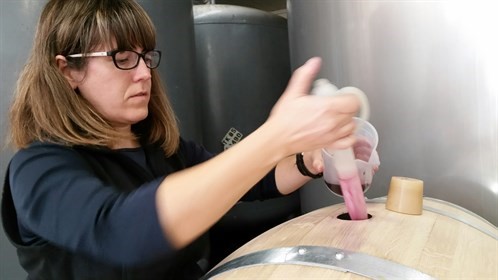 Adrienne in the cellar at Rideau Vineyards.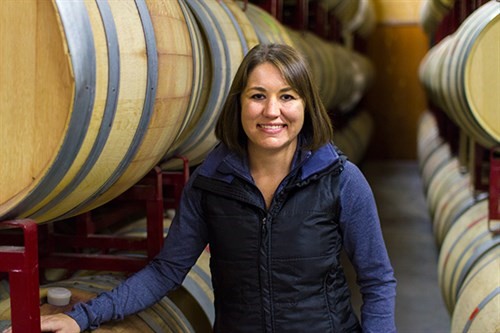 Categories
Recent posts
Popular tags