Vino In My Dino
March 23, 2016 16:51
Women's History Month is designated each year to celebrate the achievements and contributions by women in the history of our great nation. We seem to celebrate women everyday here-we are a large part of the staff from our office manager Kathy Cross to our winemaker Montse Reece. Women in my family have played an important role at the winery and in the vineyards from my grandmother Julia, who worked hard to ensure the success of their shared dream to the second generation including aunts Margaret, Marianne, Christine and my mother Phyllis who all played important roles from grape grower to businesswomen and advocates. There is a solid layer of us in the third generation including my sisters Cathy, Lisa & Joanna along with cousins Carol, Connie and Maureen. Fourth generation includes our daughter Adrienne who is a winemaker in Solvang CA and Denise MacNeil our graphics designer along with Erin & Sarah, Lisa's daughters and Katrina & Felicia, Cathy's daughters.
We four grew up together here at the winery-you might remember that my office is formerly my bedroom, the one shared with Joanna, my youngest sister. We played in the vineyard, traipsed through the cellar, pestered my uncle and dad with questions, 'picked' grapes, later on gained respect for the work done by the first and second generations and then followed in their footsteps, each blazing our own trail into the family business and beyond.
We now work together at the winery and our jobs are as diverse as we are. I took on marketing and travel almost from the start, after having honed my skills in the tasting room and offic. My sister Cathy, who owns her own bookkeeping and payroll service in San Francisco, has always worked with numbers-I used to call her The Collector because she was diligent in tracking those who were slow to pay. Lisa began in the tasting room when she was 18 and going to Santa Rosa Junior College taking viticulture courses. Hers' is an administrative position balanced with care for her grandsons. Joanna began here in the office taking on many administrative duties but has cut back and is following her passion of animal rescue and care.
A toast to sisters everywhere but especially to my own. We all have our favorites-mine is our Mother Clone Zinfandel, Cathy's & Joanna's is Sauvignon Blanc, and Lisa likes the Dry Rosé of Zinfandel.
Clockwise from the top are Lisa, Cathy, Joanna and me.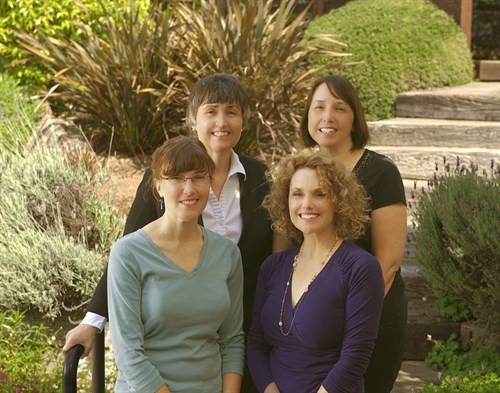 Categories
Recent posts
Popular tags