Vino In My Dino
December 9, 2016 14:39
Wine dinners. I have done my fair share over the years. I have met some great people as they tasted our wine and dug into one of the multi-courses the chefs prepared for the evening. I believe it is the best way to enjoy our wine-with food and friends.
This week I flew up to Seattle (just in time for the deep freeze with highs of 37 degrees and lower) for a dinner at The Whale Wins, one of Executive Chef Renee Erickson's restaurants, and was treated to the best wine and food pairing menu ever. And in 30 years that is saying something. Chef Renee sat down with her staff and tasted through our wines a month before the event. Her menu is below and I am here to say our wines glowed as each pairing came along.
I was not surprised when I found that Chef Renee is a James Beard award-winning chef and author. I'll quote from the press sheet because her style is exactly what we envision when it comes to finding the perfect pairing for our wines: 'Dedicated to creating an environment that not only nourishes the body, but feeds the soul…her food, casual style and appreciation of simple beauty is an inspiration to her staff and guests.' Indeed, everyone at the dinner was inspired. We often say our wines go best in casual fine dining and it all came together on this night.
It was difficult to choose a favorite course-I think the Mother Clone Zinfandel with the Duck Confit was dazzling!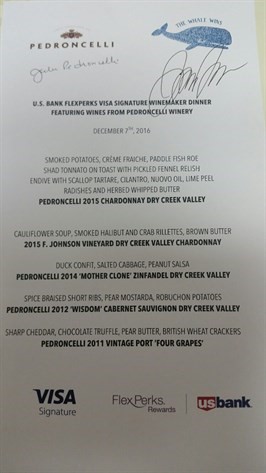 Julie working the room-taken by my friend Lucy Hillier.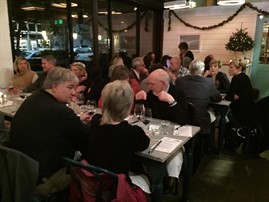 I told the group that Chef Renee had read my mind in coming up with the dessert course paired with our Port-a little savory (Jasper Hill Sharp Cheddar!), a little sweet (chocolate truffle and pear butter!) creating a great combination.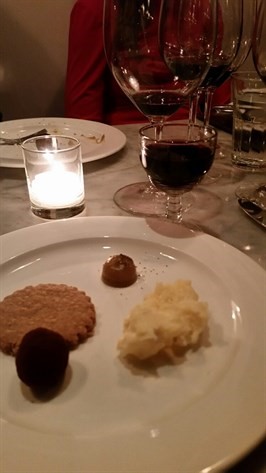 I brought my Dino cup and shared with the crowd memories of my first taste of wine, launching a lifetime of passion. I also encouraged them to recall their favorite memory when the wine and food became a perfect pairing. Cheers to Chef Renee, the staff at The Whale Wins and you with a splash of Chardonnay in my Dino!
Categories
Recent posts
Popular tags