Vino In My Dino
October 29, 2018 13:44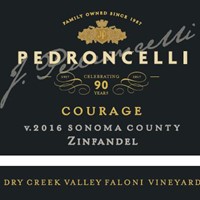 ZAP (Zinfandel Advocates & Producers) is an organization that has been promoting this uniquely Californian grape for over 30 years with special tastings and other nationwide events. Would you like to know more about our ZinStory?
My ZinStory began when I first sipped it from my Dino cup when I was four years old. It is the inspiration behind the name of this blog as you may have guessed by now.
Why don't we start at the beginning of Zinfandel in Dry Creek Valley. The 1850's saw many people moving into this area and they began to plant grapes along with other crops. They chose Zinfandel, among a few others, and the rest is ZinStory.
On the winery property it started in the early 1900s when the Canata family planted Zinfandel and made barrels of wine destined for sale in San Francisco. Giovanni and Julia Pedroncelli bought the vineyard, shuttered winery and home mid-Prohibition in 1927. They acquired a 25 acre vineyard which supported the young family by providing grapes for home winemakers where each head of household could make 200 gallons.
Zinfandel continues to be our most widely planted grape today with 33 acres of first, second and recently third generation vineyard on the original land my grandparents purchased 91 years ago. We continue our story with three Zinfandels: our Mother Clone located on the home ranch and spanning in age from 115 year old vines to 4 years old; our Bushnell Vineyard which is owned by third generation family member Carol Bushnell and her husband Jim. We have been getting fruit from this place since the 1940s; Courage is our newest member and comes from the multi-generation grape growing Faloni family. We believe it takes a lot of courage to be a farmer and grow Zinfandel!
Our winemaker Montse says Zinfandel tells the story of the vintage. Whatever has gone on during the growing season through to harvest is reflected in this grape and the wine it makes. Recent examples of this includes the incredible concentration in the drought influenced year of 2015. 5 years before this a heat wave struck in 2010 and we lost nearly half of our crop-also a concentrated vintage due to the very low yields. There are many other memorable examples of quality from vintages like 2012 (the year of plenty), 1997 (considered the vintage of the century), 1985 (focused & concentrated) and 1978 (Zinfandel was the winner after years of drought brought excellent quality). Just remember every bottle tells its' own ZinStory.
Now, what is your ZinStory?
Categories
Recent posts
Popular tags