Vino In My Dino
May 26, 2015 16:35
We have four acres of Portuguese varietals planted in the mid-1990s on our home ranch. We have found the hillsides are a great spot for these dessert wine grapes which consists of 30% Tinta Madera, 30% Tinta Cao, 20% Souzao and 20% Touriga Nacional. The stats for acreage in the state of California are sketchy when it comes to these varietals as I could only find Souzao which has a total of 88 acres in the state and 2 in Sonoma County-we have 1 acre. The other listed is Touriga Nacional with 270 acres statewide and 2 acres in Sonoma County, with one here. John Pedroncelli, who liked to experiment and find out which site is best for each varietal, began making this wine in 1990 from a grower nearby (does Raymond Burr ring any bells?) and soon added this to our permanent portfolio.
When I give a vineyard tour at the top of our Mother Clone vineyard it is easy to see the bands of color, in the growing season and fall, representing the different grapes planted across the way. If you are wondering why we can still call this a Port, thank the 2006 trade agreement when we were grandfathered in because we have been using the name for so many years. The vines continue to thrive in our Mediterranean climate. Each grape adds its' own unique character to the blend be it color, flavor or tannin.
Bands of color delineating the Portuguese varietals in the fall.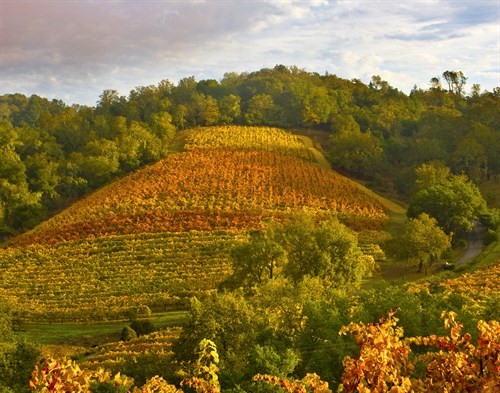 Categories
Recent posts
Popular tags