Vino In My Dino
April 9, 2020 10:06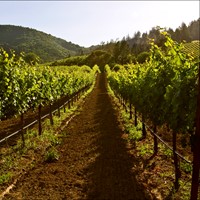 I am focusing on our other flagship wine this year: Cabernet Sauvignon. Did you know it is the most widely planted wine grape in California? Here are my thoughts on what makes this varietal special, thriving here in Dry Creek Valley Sonoma County.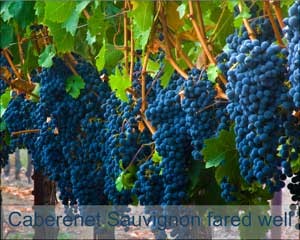 First up, the stats: Cabernet Sauvignon is king of wine grape acreage in California with 93,241 (bearing and non-bearing) total acres. It bested its' rival Chardonnay by 93 acres. By comparison, about five years ago, there were 6000 more acres of Chardonnay than Cabernet Sauvignon-just in case you are keeping score. In Sonoma County (12,090 acres) it is the second most widely planted, with Pinot Noir almost equal and both bested by Chardonnay as the number one most planted grape. Dry Creek Valley, where Cabernet rises to the top winning the title of 'most widely planted' with 3200 acres, reigns as #1.
Now for a bit of Dry Creek Valley wine grape history. The first grapes were planted, Zinfandel among them, in the mid-1800s with wineries following in 1872. The area burgeoned with production right up until Prohibition ended commercial winemaking in 1919. During this dry time many of the vineyards were pulled out by grape growers in order to make a living and were replaced by fruit trees and other crops (this area was known as the buckle on the Prune Belt for this very reason). Once Repeal made it legal to make wine again it took some time to get back into the business of developing a market, planting vineyards, and took a World War to engage the nation's palate again. While my grandfather already had zinfandel and petite sirah on the home ranch he dabbled in planting Riesling and Pinot Noir among others.
It wasn't until sons John and Jim bought five acres on West Dry Creek Road in 1965 that they became the first growers in the valley to plant Cabernet Sauvignon. They saw an appreciation for this varietal from those who served overseas and had become acquainted with the wines of France and Italy. Now they wanted to give customers a wine they appreciated. This vineyard would become known as our Wisdom vineyard. Beginning with this vineyard we learned over the next 5 decades what it takes to get the best out of this grape. We now farm 31 acres along the bench and valley floor. If there is a site specific grape I believe this is it.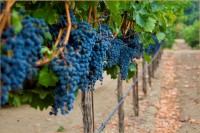 What makes Cabernet Sauvignon distinctive from our vineyard and valley? The location for one. Our estate vineyards are located in the northern end of the valley. Wisdom is on the valley floor on the 'dry' western side of the valley and our Three Vineyards and Block 007 are on an eastern bench across the way where the soils are gravelly loam with great drainage. Another distinction is in the trellising. Finding the right vine systems to maintain production and canopy are important because the vigor of the vineyard can get in the way of ripening. Canopy and crop management become key to a wine with a quality fruit profile. Cabernet Sauvignon needs sun to ripen and a long growing season. Dry Creek Valley's climate is here to help with its' ideal number of warm degree days paired with the all-important marine layer, cooling down the grapes at night. Both are the foundation of fruit development maintaining aromatics, acidity and balance. Hallmarks of our Cabernet Sauvignon show flavors of plum and berry fruit combined with tobacco or sage notes (Winemaker Montse Reece describes this as 'greenier') and wrapped in a firm core of tannin or 'grip' as John Pedroncelli would call it. 
The combination of site specific planting, aspects of climate and soil, picking at the right moment after the desired hang time-Cabernet is usually one of the last grapes harvested-and, once at the winery, the choices of oak and aging give you a Cabernet Sauvignon you can enjoy upon release or has the staying power for the cellar. Either way it is fitting to consider the wisdom gained over 55 years of farming the king of red wine grapes.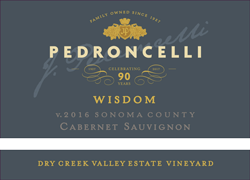 Categories
Recent posts
Popular tags