Vino In My Dino
January 6, 2015 17:53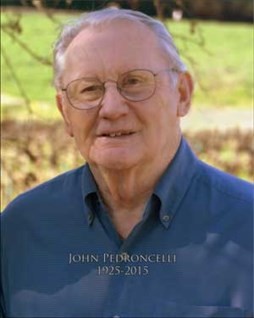 JOHN PEDRONCELLI 

Dry Creek wine giant dies 

Second-generation vintner helped transform Dry Creek into noted appellation 

By BILL SWINDELL 

THE PRESS DEMOCRAT 

John Pedroncelli, a second- generation vintner who was instrumental in building Sonoma County's wine industry, particularly in the Dry Creek Valley that he called home for almost all of his life, died Sunday at home after a months long battle with cancer. He was 89. 

Pedroncelli, along with his brother, Jim, was a key figure in the history of the county's winemaking as it emerged from a craft business practiced by a few families after World War II to today's multi billion dollar industry known worldwide. He was 2 when his family purchased the winery and moved to Geyserville in 1927. With the exception of serving two years as a radar man in the Coast Guard, Pedroncelli spent almost all of his life around the winery and was a daily fixture up until last year, even providing advice on 2014's early harvest. 

"He preserved the past while looking ahead to find innovative solutions in a changing winemaking environment," said Honore Comfort, executive director of the Sonoma County Vintners. "John's legacy will be his unwavering commitment to the land, to winemaking and to his family which epitomizes the spirit of Sonoma County's great wine families." 

Pedroncelli studied chemistry and botany at Santa Rosa Junior College and took enology courses at UC Davis, and in 1948 assumed winemaking duties from his father, John Sr. 

It was nearing the end of an era where the Pedroncelli family would make, sell and deliver its wine to grocery stores, local ranchers and families. Buyers could pull up to the winery and fill up a gallon of red or white wine for 45 cents. 

A year after taking over winemaking, Pedroncelli made a zinfandel for release bottled under his family's label, a variety that the winery would become well known for throughout its history. He also produced California's first zinfandel rose.

The winery began a major expansion in the mid 1950s with installation of an automatic bottling line and an increase in storage capacity. Jim Pedroncelli became head of sales and marketing in 1957. It also became the one of the first wineries to market Sonoma County's appellation on its label. 

PEDRONCELLI: Freely offered advice to new vintners
The family winery transitioned from a bulk wine producer into a premium winery, but with affordable prices, and later branched out into pinot noir, riesling and red blends. 

In 1963, John and Jim Pedroncelli purchased the winery and vineyards from their father, and a year later began to vintage date its wines. They also began purchasing prune parcels around West Dry Creek Road and turning them into vineyards, helping put the Dry Creek Valley on the map as a winemaking destination. The area is mostly northwest of Healdsburg, where the creek is a tributary of the Russian River. 

David Stare, founder of Dry Creek Vineyards, became familiar with the Pedroncelli brand as a student at UC Davis in 1971 when he organized a tasting of a bunch pinot noirs. The Pedroncelli brand was the favorite among the group even though it was much less expensive than the other competitors at a price around $5 to $6 a bottle at the time. 

"Their wines have always been reasonably priced," Stare said. Many of its wines today are priced at $20 or less. 

When he started his winery in 1972, Stare said, the Pedroncelli brothers were always helpful about providing advice to him. He would occasionally take wine samples that did not turn out well over to the Pedroncelli's lab and ask John for his opinion — a thought unimaginable today in the industry's competitive marketplace. 

"If I had a problem wine, I could always take it over there," Stare said. "He was always helpful on giving me his opinion ... He was a very lovely man." 

The hard work of the Pedroncellis in the Dry Creek Valley paid off in 1983 when the region was named as an American Viticultural Area. It now has more than 9,000 acres of vineyards that blanket a 16-mile long stretch that is two miles wide. Overall, the Pedroncelli winery has 105 planted acres and produces 65,000 cases annually, said Julie Pedroncelli St. John, vice president of marketing and John's niece. 

Pedroncelli was noted as a humble man, who preferred the behind-the-scenes work compared to his brother, Pedroncelli St. John said. 

But he carried so much respect and trust in the Dry Creek region that he helped set market prices for grapes in the area in the early 1970s, before brokers, pricing models and crush reports became commonplace in establishing rates, said Duff Bevill, founder of Bevill Vineyard Management. 

Bevill said newer wineries at the time were unsure what to pay growers in their contracts, "So they would say we will pay what John Pedroncelli pays." 

The winery leadership is in its third generation of Perdoncellis, and a fourth generation also works in the family business. 

Besides Jim, John is survived by his wife of 48 years, Christine, a former trustee for Santa Rosa Junior College; children Connie (John) Proctor, Richard Morehouse, Maureen Davison; and grandchildren Roseann, Lauren, Christopher, Ian and Elea. A private funeral service will be held.
Categories
Recent posts
Popular tags