Vino In My Dino
June 5, 2015 16:12
I'd majored in English, without plans on a wine career, and now was changing direction and going to work for my family. I was eager in those early years of my employment to learn as much as possible and of course put all this knowledge to work right away. Night classes had me studying viticulture and wine marketing. I joined trade groups like the Wine Road to network and widen my scope. A Tasting Class at UC Davis opened my eyes to the many nuances found in white and red wines. My own Pedroncelli education would take the next ten years learning the family ropes, going from tasting room to the office, as well as the industry's intricacies. By the time I joined in, my dad had been developing our wholesale network for 30 years. I was hard pressed to come up with something other than 'I'm the daughter of the owner' and it took time to develop my own voice, my own way of telling our story. I went from being an introvert to an extrovert when I realized no one buys wine from a shy and tongue-tied person, family member or not. I will admit there are times I cringed from some of the situations I found myself in. These days I usually refer to myself as an extrovert by profession because my preference is to fade into the background. Being a perfectionist helped spur me on and made me even more determined to tell a compelling story after a few false starts. The years have refined me to say the least.
Let's go to the 'way back' machine to refresh your memory with a few milestones between 1985 and 1995: the market moved from jug wines to varietal wines, grape prices doubled, 'fighting varietals' were introduced, the French Paradox changed the way American's embraced wine and consumers demanded quality over quantity. It was a time when we were adding varietals like Sauvignon Blanc and Merlot to our line of wines and replacing Chenin Blanc, Gewurztraminer and Johannesburg Riesling. These were exciting times to be in the business and I will toast these with a splash of Sauvignon Blanc in my Dino.
On the road-doing my thing. With Scott Gayman, our broker in the Northeast.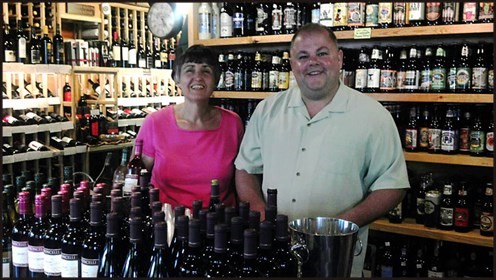 Categories
Recent posts
Popular tags