Vino In My Dino
March 28, 2022 09:42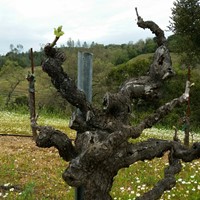 Budbreak, the beginning of another growing season in the vineyard and of a new vintage, has begun in many of our vineyard blocks. The 40+ year old vines in the Mother Clone across the road from my office are just about there-their younger sibling blocks are off and running but the older vines are taking their time. Isn't that just the way it is when you compare an 8 year old child with a 40-something adult?

As spring continues, the vines begin their journey from buds to shoots to bloom and crop set and before we know it harvest will be here. Today I am doing a little spring cleaning and tying up loose ends. But first I wonder how are you doing? I asked this 2 years ago when we were enduring the first part of the COVID shutdown. Back then we were under the impression we'd get through two weeks of staying home but the virus surprised us all with continuing for months and upended our lives, our businesses or work life, upended travel and vacation time. The prognosis of finally ridding ourselves of the virus is good although it lingers and morphs into a variant every few weeks. The state of California and the county of Sonoma have lifted most of the restrictions that were holding us back. So here we are onto the next phase of freedom.

With the promise of less restriction and spring cleaning in mind I'd like to revisit the poll I took in December and share with you some of the ideas that sparked your interest in answer to my questions.

1-I would consider attending one or more of four seasonal events (lunch or seminar or dinner) to coincide with each wine club shipment: February/May/September/November. This garnered interest to those who live nearby-it is tough for our wine club members who live a state or more away. February was still under pandemic restrictions and our plan is to offer more in the coming months. Stay tuned.

2-I'd like to attend one big dinner and that's it. I had a lot of support for this one and I have good news! We are planning to host our Sip & Savor dinner later in the summer and, drum roll please, the date will be August 6-which puts us ahead of harvest and a lovely time of year to gather.

3-I'd like to attend sessions (virtually or in person) to learn more about wine. While there wasn't a lot of interest in this type of event it could be a sign of the times perhaps? Are you interested in learning more about any particular process in the vineyard or cellar? Let me know-I plan to ask some of my co-workers to lend their expertise to these notes in the near future. Who would you like to hear from?

4-I'd like to attend a Cheese & Wine Pairing (virtually). Who doesn't love wine paired with cheese? This one was very popular so I have arranged a session with cheese maven Janet Fletcher from my favorite newsletter Planet Cheese. Put June 2nd on your calendar and we will send out information later next month. She will curate the cheese selections and she will be pairing them with our May Wine Club Selections.

5-What would you like to experience? The suggestion box is open. One of them was mini sample bottles-we just aren't geared up for this like other wineries-but I'm still researching options!

Finally I'd like to update you on our Schotzki wine project. This is to honor the memory of my brother-in-law Jon Brown and all of the proceeds will go toward Multiple Myeloma Research. The label has gone through the approval process and is now on its' way to being printed. We should have everything in order by June and will keep you all posted. 

As the pandemic continued for longer than we all thought I remember there was much talk about a grand celebration we'd all have, a party to beat all parties which rolled all the missed occasions into one. While I am not sure this will come about I look forward to seeing you either here at the winery or possibly at one of our events. I do know this. We have been here 95 years and counting and will continue to share our wines and our passion with you.
Categories
Recent posts
Popular tags