Vino In My Dino
December 4, 2015 11:54
The 82nd anniversary of the Repeal of the 21st Amendment is December 5. Prohibition itself played an important role in how we got into winegrowing. In fact, if Prohibition hadn't happened I'm not sure we'd be in the wine business today. The Italian family who owned the property before us (roughly 1906 to 1927 when my grandparents purchased it) may never have considered selling it. The winery had been shut down in 1919 but they could sell grapes during this time holding and were holding out hope the ban would be lifted. During this time they could sell their grapes to head of households, who in turn could make 200 gallons of wine. By the mid-1920's the bottom of the grape market fell and the family was struggling to make ends meet.
Enter my grandfather Giovanni who was looking for a piece of land to call his own after living in California for 20 years. Originally he came here as a companion to his sister Caterina who was betrothed to John Zandonella. My grandfather worked at many jobs in the early years including dairy, farming, railroad and other work he could find. He also served in the U.S. Army during World War I. His love of the land along with a Veteran's Loan and down payment helped him find and purchase the property. The land sustained his young family through the ensuing years that included the Great Depression and began our journey into a four generation winegrowing family.
Today the next three generations call this home in part thanks to the period known as Prohibition. A toast with a splash of Zinfandel in my Dino to my grandparents' hard work and being in the right place at the right time. Who knows? They could have put down roots in Bakersfield…
The first page of the title for the property purchased July 19, 1927. G. Canata represented the family who originally owned the property and is a relative of Louis M. Foppiano, of Foppiano Vineyards in Healdsburg.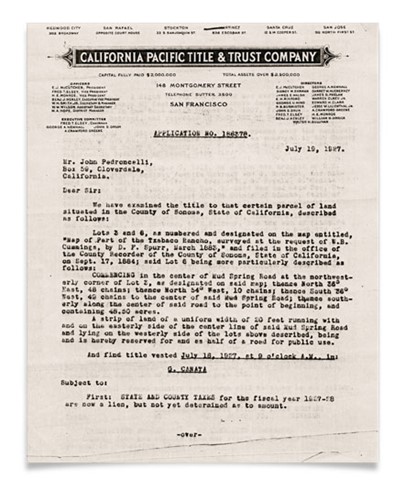 Categories
Recent posts
Popular tags