Vino In My Dino
April 21, 2022 11:03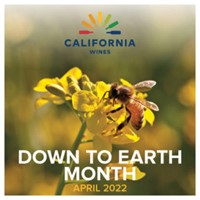 I'm thinking green today with Down to Earth Month celebrated in Wine Country up and down the state. Don't forget Earth Day this week-on the 22nd-and the theme is Invest in our Planet.  Thinking green as we go along (don't forget that other 'green' day 4/20) has me considering the many ways to invest in our home wherever we may live.

Because we are certified sustainable we keep all of this in mind when it comes to the vineyards or winery. How we invest in the right equipment for farming or how we farm is as important as finding ways to save energy and water usage in the winery. In our own home I have found ways to re-use water and because we are going into another year of drought the city where I live is rolling out measures to save even more water than we did last year. I will have to come up with more creative ways to water our yard...

And even while this bit of rain falling over the next few days doesn't get us out of the drought it does lengthen the time the hills remain green. The buzz-kill media is quick to remind me in headlines and on the news reports that we Californians aren't out of the drought, no kidding, but every little drop helps keep things green and growing.

And of course you have heard my message before-conserve, conserve water, conserve resources. Water is such a precious commodity here in the state and to all of us in agriculture, drought notwithstanding, and preserving this resource in any way we can is the key to our future. I am speaking to my fellow residents here but it doesn't hurt to spread the good word about conservation measures as I know neighbors to the north in Oregon, especially in the high desert areas, and neighbors to the east in Nevada seem to be in the same boat--forgive the pun as are many people across the globe.

Keeping it green has never been easier as we have so many choices before us. Investing in the planet we love is also supporting local agriculture, preventing pollution, supporting watershed health and being a good steward of the land, of your neighborhood or your yurt. Support a local farmer at the farmers market, join forces and clean up your street, drink some wine along with your sustainably sourced meal, compost yard and food waste or plant a garden or tree.
Categories
Recent posts
Popular tags