Vino In My Dino
May 24, 2019 16:00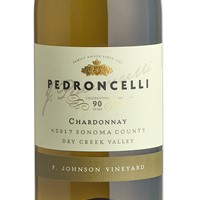 Here in Dry Creek Valley we have a north/south orientation with the valley being 16 miles long by 2 miles wide. The midpoint is at Lambert Bridge Road about 5 miles south of where Pedroncelli is located. Above this line the climate has always been a bit warmer-by a few degrees-in fact the fog rolls off of our property sometimes by 9am and it takes an hour or three later for the southern end.
Our visit to the south is the sixth and final installment about the Dry Creek Valley neighborhoods where our grapes are grown or sourced. In this visit to the southern reaches of Dry Creek Valley, about four miles south of Lambert Bridge Road, we have one very longtime grower for Pedroncelli: Frank Johnson. He purchased the land in 1971 which at the time was planted to orchards not vineyards. He started by removing the apple trees and replacing them with Chardonnay (where both our Signature Selection and the F. Johnson single vineyard are sourced), Pinot Noir, Sauvignon Blanc and Gewurztraminer.
John Pedroncelli, winemaker at the time, was seeking to add to our production and sought out Frank in the 1980s to begin a winery-grower relationship that continues to this day. Pretty sure it was a handshake contract then. We have been buying Pinot Noir and Chardonnay for all those years and, when Jim Pedroncelli came up with the idea to add Gewurztraminer to our friends.white, we added a third varietal from their vineyard.
Frank bought his property long before appellations lines were drawn. In 1983, when the boundaries were set, they divided the F. Johnson Vineyard with the Chardonnay ending up on the Dry Creek side and Pinot Noir on the Russian River Valley side-and they are just a few feet apart. So we have cooler-climate-grown Chardonnay with Dry Creek Valley as the appellation and we, of course, source part of our Russian River Valley Pinot Noir from the other part of the vineyard with thanks to those who drew the lines 36 years ago.
Our Dry Creek Valley neighborhoods are all wrapped up. I always say every grape picked is within 12-14 miles of where the winery is located. We are regionally focused on local or estate vineyards when making our wine and the fruit comes from some of the best vineyards in the county.
Categories
Recent posts
Popular tags