Vino In My Dino
April 23, 2021 11:03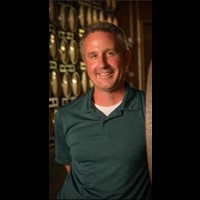 Jon Brown was our Tasting Room Manager and later on our Wine Club Manager. When he passed away in March we received hundreds of responses, many of them with great stories and photos. Thanks again to everyone for sending in your notes and stories. He will be missed by many of us and these memories will go a long way to heal the loss.
Two stories from Diana & Sparky will lead off along with many other notes and memories of Jon: 
We met Jon the very first time we 'discovered' Pedroncelli. It was late in the day, near closing although we didn't realize.  There was only one car in the parking lot, full of political stickers.  He welcomed us openly and when we mentioned we were from Alaska we got onto a whole political discussion of Ted Stevens (a fan of Pedroncelli), we explained how our personal politics are less aligned with our state but that Ted was always a hero here and laughed about the car in the parking lot (his as it turns out) and ended up having a lively, politically aligned, musically aligned and very cheerful conversation over wine for probably the next hour.  By the end of it we were hugging and felt as though we had truly met a kindred spirit.  Every time we came down we tried to time our visits to Pedroncelli at a time that Jon would be less busy and we could resume our wonderful discussions of music, politics, tales of our 'westy adeventures' in Alaska (our Westfalia van-we broke down a lot) and the state of the world.  I remember clearly one time when we had not known to call in advance we walked into a somewhat crowded tasting room, saw Jon across the room and as soon as he saw us he paused, laughed, threw his hands up in the air and exclaimed "what Alaska you don't call to let me know you are coming??!!!".  Ever after that we did and always had a great time visiting with him.
The second one, where Diana notes she hopes she doesn't get anyone in trouble: We showed up one day mid-week with a picnic, we didn't often picnic at Pedroncelli preferring to come late in the day when we might be able to talk to Jon longer if possible as things were quieting down.  But we were on bikes that day with our sandwiches and figured 'why not?  we can always come back tomorrow to hang longer!".  But when we got there it was clear that a giant party was in the gazebo area.  We went in nonetheless to pick up wine we could retrieve later with the car and to hang out with Jon.  Over tasting we asked about the party (a wedding rehearsal I believe) and laughed that it was our first time we were going to picnic at Pedroncelli but got skunked!  Jon refused to take no for an answer and said 'I have an idea, follow me"...curiously we followed him out the door down the drive and into the next door house...where Jon said "here help me carry these"...gesturing toward the dining room furniture!!.  Warily we said "umm it's ok we don't want to be any trouble or anything it's no big deal"...and Jon cheerfully offered "no it's all fine it's my brother in law's we will put it back after!"  Whereby we moved a table and chairs from the house into the shade behind and had our picnic there! :-)
He knew his wine, he was funny and his restaurant recommendations were spot on.
A note to Colin (our Wine Club Manager trained by Jon) from a club member: I became a Club Ped member in 2005 after Texas (where I then lived) legalized interstate wine shipments to individual customers. I became used to calling/writing Jon during his tenure managing Club Ped and recall his friendly positive dedicated attitude toward his work and ClubPed. I was concerned when he left Pedroncelli how Club Ped would be managed but after a few months communicating with you I realized Jon trained you well!
Enjoyed knowing and working with him over the years.  He always had a good sense of humor.  
Jon will be deeply missed! His personality was wonderful and he always brought a smile to my face.
We remember Jon and his warm voice on the phone when we called in to order a case of your good Zin.
He and I had many phone and email "conversations" when my Club Ped order needed to be sorted out. I always knew that if I called Jon, the issue would be resolved!
He was a very kind person that added a depth of service rarely experienced in this day and age. 
Jon was the one who I met and took me through my tasting when I first visited Pedroncelli. He was kind, generous with his time and extremely friendly and accommodating and made a strong impression on me and was the reason I made the purchases I did that day!
He was so helpful to me with Club information and so kind when we needed to stop our Club shipment a few years back due to an over stock of wine. He and I had a chuckle about that. 
The first was back in the summer of 2016 for our 25th anniversary. Pedroncelli was out first stop, and Jon had made an appointment to meet us and give us the tour. We had so much fun with him that day- he was so enthusiastic, energetic, and treated us like long time friends. Still a highlight to this day.
As club members, we had the privilege of communicating with Jon on many occasions and he was always 'Johnny' on the spot! I love his nickname (Schotzki) and I too find myself 'in the music'.
Your records may tell you how long I've been buying wine from Pedroncelli, and thus when I first got to know Jon; it's been many years.  We hit it off from the start—I called in my orders then and he always had a friendly word (or two)  and good advice. He helped me through the weddings of our two daughters and innumerable other special occasions.   We finally traveled to Sonoma Valley in 2015 (after I got through treatment for lymphoma, hence the hair style),  and my wife and I were able to meet Jon (photo below).  It was a high point of our trip.  I miss Jon as am sure many others do.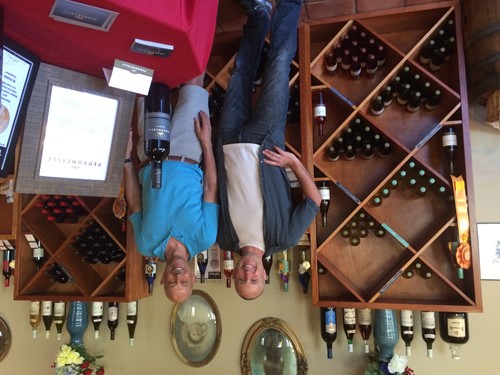 And Jon with guests from Florida and Maine at the crushpad with Colin, Lance and Mitch during the harvest of 2018.
Categories
Recent posts
Popular tags