Vino In My Dino
December 3, 2019 16:11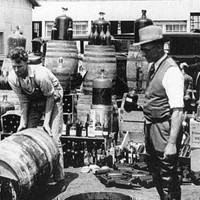 December 5 marks the anniversary of the end of a long dry time in America. Each year, especially in wine country, we celebrate the end of Prohibition by raising a glass or two on the anniversary of Repeal of the 18th Ammendment-December 5, 1933. Prohibition itself played an important role in how we got into winegrowing. In fact, if Prohibition hadn't happened I'm not sure we'd be in the wine business today.
The tale has been lost to history as to why my grandparents bought 90 acres in 1927. I think it is because my grandfather, who arrived to the U.S. from Italy as a teenager, wanted a piece of land he could call his own after working on other farms. The property included 25 acres of vineyard, a home and a shuttered winery. It was sold by the Canata family who could no longer shoulder the debt of owning the land-and there may have been more to the story there as well, also lost to history. Even though Prohibition began in 1919 if you still owned vineyard you could sell grapes to home winemakers if they were a 'head of household' and obtained the permit from the federal government. Each household could make 200 gallons of wine per year.
Now let's think about this for a moment: this totals 84 cases or about 4 gallons per week. 20 bottles a week, or just shy of 3 bottles per day. Big families? Tradition? Thirsty? Many of these home winemakers had wine in their DNA-or at least were accustomed to enjoying wine with their meals every day. These were families from the old country with traditions which included wine on the table. Thanks to these home winemakers who bought grapes they also kept some vineyards growing through this period—and helped wineries reboot once Repeal rolled around. Statistically, the story is a sad one for Dry Creek Valley. Before 1919 there were 17 wineries making just over 1 million gallons of wine. Business was booming and then the hammer came down. Many of the vineyards were taken out and planted to prunes and other orchard crops. While there was still a market for wine grapes the bottom fell out by 1925 or so and part of the reason for the sale of the property. Gratefully December 5, 1933 ended this nationwide dry spell and we were poised at the right time to enter the winemaking business. Only 2 other wineries survived the next decade and it wasn't until the 1970s when our county and valley saw a resurgence of wineries. Raise your glass, enjoy a bit of history and be thankful we are a nation that believes we should have wine on our tables.
For those who love details I found this blog post from the Consitution Center and National Archives is a blog post on the 21st Ammendment and 5 things you may not have known!
Categories
Recent posts
Popular tags