Vino In My Dino
January 6, 2016 18:25
Rain-it's in the forecast as an El Nino year. How much so far? We have measured 13.8 inches by the 4th day of January with another 4 as this is written. More is expected as several storms pass over us. The headlines I read keep saying this isn't the end of the drought-no kidding. Remember the phrase 'It ain't over 'til it's over'? I'll be waiting for the next 6 months when the official rainfall is recorded for the year in order to know where we stand.
The 'Dry Creek' of Dry Creek Valley ran dry in the years preceding the formation of Warm Springs Dam and Lake Sonoma, the body of water created by the dam and is situated to the north of us. Built in the early 1980s, it was put in place to provide flood control, irrigation and recreation. The recent years of drought created low lake levels which plummeted even more since water is released year 'round. As of January 4 I am happy to report it is 70% of capacity but below the usual average. I have provided a link in case you are interested in the comparison between this year's capacity, last year's total as well as 2005-2014. Like I said earlier, the season isn't over yet. In fact it has just begun and right now the future looks pretty wet. A toast in my Dino to more rain!
My uncle John standing in flood waters circa 1950s-it isn't this bad yet but Canyon Creek does run through our property all the way down to Dry Creek and sometimes it can overflow its' banks even as recent as two years ago.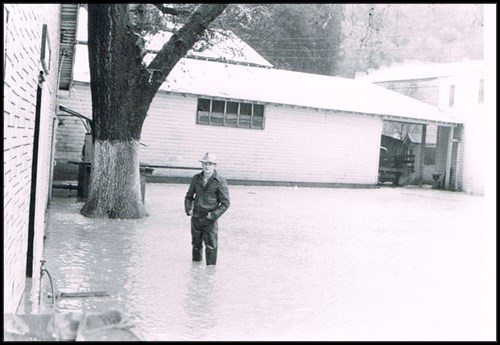 Categories
Recent posts
Popular tags