Vino In My Dino
March 30, 2021 16:06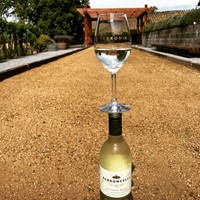 Tuesday, March 16, marked the one year anniversary of the pandemic for us. We closed our Tasting Room, battened down the hatches, followed the news very closely and here we are a year later. We started off not knowing how all of this would go, how many weeks we'd have to wait. And I think many of us thought it would all be over soon and never considered a full year of opening, closing and opening back up again in our tasting room as well as restaurants, hair salons and hotels and beyond. Who could have predicted all of this?

In a recent zoom session one of my friends, who lives in California, rattled off the colors of our COVID tiers in a sing-song voice and it stuck with me, hence the title. The colors Purple, Red, Orange, and Yellow are assigned to the tiers by the state of California with differing levels of COVID statistics. Purple is the most impacted and of course yellow signals better days ahead. The tiers determine how we operate as a tasting room and how restaurants and retail can operate as well-masks and physical distancing are still part of this time. I hear a Green tier is being develped as the final color for giving us all a go ahead-I for one am looking forward to that.

On Sunday as we spring forward the county will go from the Purple to the Red tier. At this time there is no difference in how we operate-still outside tasting by reservation. Moving into the Orange tier means we'll have inside tasting again. Our state and county officials continue to work toward reopening the schools and other businesses so hard hit by the shutdown and the colors will shift slowly from Red, to Orange then Yellow.

All along the cellar and vineyard staff kept going because agricultural work is considered essential. They worked together to keep safe and are now on their first and second vaccinations thanks to county trade groups like the Sonoma County Winegrape Commission being at the forefront of providing the vaccination information. In fact I just heard the town of Geyserville has the most vaccinations per person than anywhere else in our county.

COVID operations continue and include maintaining and keeping areas of use clean, very clean. Sanitizer now complements the soap dispenser and there is a bottle in every possible spot to keep on sanitizing. Gary has become an expert with these guidelines and the tasting room crew continue to welcome guests and keep them comfortable as they take in the refreshing outdoors and taste through a flight of wine.

What did we learn from this time?
Did you know that the common cold and flu has been cut back by some 85% because of the masks, sanitizing and social distancing? That speaks volumes.

People like to order Pedroncelli wine! We have seen surges at different times over the year but overall we are seeing a large number of orders even today via online and phone-this avenue of ordering has become the norm.

You really want to come back to visit. Our virtual events were popular but don't replace the 'real' thing of being in each other's presence. There is nothing like sitting down to an experience here at the winery and tasting wine at the source.

I learned I could visit with different accounts in my markets through Zoom and it was just as fun talking to folks and tasting through the wines with me in Healdsburg and them in their stores or restaurants. I learned how things are going in each of their cities or towns across the country.

What did you learn? My inbox is open, as always, to hear from you julie@pedroncelli.com  By this time next year I'll look forward to seeing many of you in person.
 
Categories
Recent posts
Popular tags