Vino In My Dino
May 27, 2020 06:14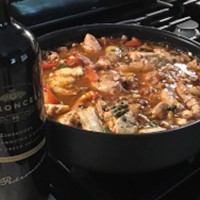 During the last 11 weeks we have been on a kitchen journey while staying at home. Most of us have discovered the joys of working with what we have on hand or finding new ways to cook chicken. Many famous chefs are making short videos as if you are cooking with them-Jacques Pepin is my favorite. Ordering online for groceries became a new norm for some, curbside pick up for others or we suited up and went to the store with list in hand-something about being masked made me forget half of the things I needed on my first couple of trips.
Needless to say eating is one of those things we all have in common, right up there with enjoying wine. One of the joys of writing my newsletters and these posts is receiving messages back from you, my readers. And every once in a while I get recipes which is like opening up a surprise gift, I am an avowed collector if you didn't know. In the last couple of months I have received notes about home cooking and what you were fixing that night along with which wine to go with the meal or what you were experiencing while trying to be creative. You sent me recipes or I found them on Facebook. Either way here are three from the last 2 months and thank you all for sharing your recipes!
Pollo a la Romana: This recipe comes from our club members the Kings, Donn & Judith. I saw the photo of the finished dish on Facebook and requested it for this story. While this isn't the typical recipe laid out it is the way I cook-improvisation!
Seriously, you know how it goes; you start with a recipe, add and modify and adjust for quantity, and hope it comes out good. Pollo a la Roma is essentially an Italian chicken stew, reduced and thickened, and served with any pasta; orzo is good.

I improvised on a recipe by using quartered artichoke hearts, a package of exotic mushrooms, a big yellow onion, bacon instead of prosciutto, red wine instead of white, and I used canned tomatoes from our garden from last season, and chicken tenderloins (whatever they are). I used at least 10 ounces of red wine to get the liquid volume that I wanted, along with the quart of cooked tomatoes. I used 2.7 lbs of tenderloins.

Otherwise, you brown the chicken; set it aside; sauté the bacon, onion, red and yellow pepper. Then add in a quart or so of diced tomatoes. Add in your spices, and salt and pepper. We used Italian parsley, thyme and rosemary because we grow it. I think you could use any herbs that you want. One thing I do is- I don't sauté garlic anymore. I add the fresh, chopped garlic into the tomato sauce, and let it stew. I feel that sautéing garlic is too hot for the garlic and you lose flavor.

Then you add back the chicken, adjust the salt and flavors, simmer for at least an hour, and stew it down to your preferred consistency. Serve with pasta of your choice. Donn asked me to make certain to tell you the pictured wine was not used for cooking!  Of course, we drank the pictured wine (2016 Bushnell Vineyard Zinfandel) with our meal and thought it was spectacular.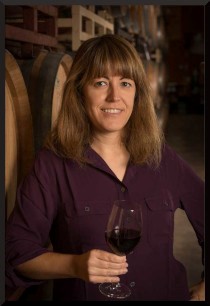 Paella a la Montse: our winemaker and I were asked for recipes to pair with our wines for a New York retailer promotion for cooking at home. Knowing this is one of Montse's favorite dishes as well as a taste of home (she is from Spain) I asked her to share it-along with her wine recommendation.
My paella recipe (for a seafood paella):
1 lb of clams
1 lb of shrimp, peeled
1 lb small scallops
1 green bell pepper
½ onion
1 can of small diced tomatoes
4 garlic cloves minced
Olive oil
Saffon 1 pinch
Pimenton or smoked paprika 1 teaspoon
Spicy pimenton or cayenne (optional) ½ teaspoon
Turmeric (optional) 1 pinch
1 lemon
Rice: bomba or medium size 2 cups
Fish broth (4 cups)-recipe included below.
Salt & pepper
Note: It is important to use a Paella pan or a flat wide base pan, a cast iron pan is good too.
You need to make the fish broth separately. This is a quick way to do it: In a pot add 4 ½ cups of water, salt, the clams (previously clean and scrubbed) and a pinch of saffron. Bring to a boil. Remove the clams when opened (discard the unopened clams) and set them aside. Remove broth from heat. Reserve.
Heat olive oil (2 tablespoons) in Paella pan over medium high heat.  Add shrimp, salt, cook each side until pink. Remove them from pan and set aside. Add onion, cook 5 min or until translucent, add diced bell pepper and garlic. Cook for another 10 min. Add diced tomatoes and all spices. Mix well and cook for 5 minutes. That's what we call the Sofrito. 
Add rice and mix well with the Sofrito.  Add broth, shrimp, clams and scallops, (salt and pepper to taste).  Cook at medium heat for 5 minutes, then cover and cook to low heat until rice has absorbed all broth.  Remove when done and let it rest, covered for 5 minutes. Serve with a wedge of lemon. Enjoy with our white wines, rosé, Sangiovese or even our Pinot Noir.  Salut!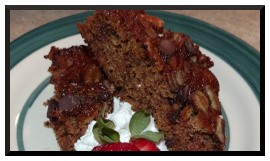 Date Nut Cake: this was sent in by Bill Kammer. I made this right away knowing my family loves this kind of combination. He said, "We got the original recipe from a sweet lady of Swiss decent – we miss her as she passed away quite a while ago. Most of the parenthetical comments are our modifications. It will fool you into thinking it is a Chocolate cake, so I have it with a Pedroncelli Red."
Step 1: 1 Cup Chopped Dates (the date pieces dusted with flour work best) 1 ½ Cups of Boiling Water & 1 tsp Baking Soda(get the water boiling before you chunk in the dates) Put the dates and soda in a bowl; then pour the boiling water over and let cool.
Step 2: Cream: ½ Cup Shortening (we use Butter), 1 Cup Sugar and 2 Eggs then: Add to the cooled Date Mixture
Step 3: Sift: 1 ½ Cups of Flour, ¼ tsp Salt, ¾ tsp Soda
Step 4: Blend: The Mixture of Step 2 alternately with Step 4 ingredients Then: Pour into a Greased 9 X 13 Baking Pan
Step 5: Mix: 1 Package of Bitter-Sweet Chocolate Chips, ¼ Cup of Sugar (Optional), ¾ Cup of Chopped nuts Pecans and/or Black Walnuts (we use almost 1 ½ Cups). Sprinkle this mixture over the batter so it stays on top.
Step 6: Bake 350 degrees 40 – 45 Minutes.
As Jacques Pepin likes to say 'Happy Cooking' and I like to say 'Don't forget the vino'.
Categories
Recent posts
Popular tags