Vino In My Dino
November 2, 2020 14:40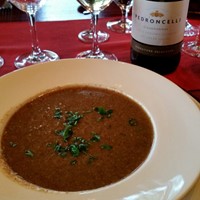 I still remember the first time I attempted making sautéed mushrooms for dinner when I was around 18. It was the rare chance that my mom was out of town and it was just my dad and I kicking around for dinner. The recipe? I 'didn't need one' and boy was that a mistake. I wanted to try mushrooms in a red wine sauce. It was an unmitigated disaster-it was just mushrooms in red wine-no butter, shallot, garlic, salt or pepper. Yuck. My dad also scratched one of my mom's frying pans making his steak. Needless to say we didn't eat the mushrooms.
Well I am here to tell you if I stopped then I wouldn't have developed a love for these bites of tastiness. Over the course of many meals either homemade or enjoyed at friends' homes and restaurants the mushroom (or should I say funghi?) is one of the foods I think matches well with wines. Sometimes it's the sauce, the protein or the combination of herbs and spices. In my opinion it is the most versatile of all the vegetables and there are unlimited options for pairing up with the right wine.
There is another way to test out the funghi factor. I learned this from the WSET (Wine & Spirit Education Trust) program. One of the tests is designed to help find out how foods interact with wine and they chose the mushroom as the trial pairing. Pour a sample of wine-white or red-and eat a bite of raw mushroom and assess. Then put another mushroom in the microwave for a few seconds to 'cook' it or roast a mushroom and then take a bite with the same wine. And there you have it, a way to find out how food and wine, in raw and cooked form, work together. 
The cooler weather (between yesterday and today we went from 86 degrees to 61 degrees) makes me think of all the dishes I can make with the wonderful mushroom-either as the star or as a supporting player. This is the best time of year according to my sensibilities! I love the weather change, the meals that come with the cooler season including slow cookers, braising, stews and soups. In my humble opinion I truly believe mushrooms were made to go with wine!
For ease of finding all the recipes I talk about here I have put them into one easy to find folder entitled Mushrooms on our website.
Salads & Sides:
I developed the Portobello and Parmigiana Salad for a wine dinner I hosted a while ago. I was trying to find a way to bridge the salad dressing with the wine (Pinot Noir) and I came up with adding some of the 'jus' from the roasted Portobello. -the great thing about the dressing is I included a small amount of the mushroom 'jus' to the dressing-bridging the salad with the wine for a flawless pairing.
This warm and lemony spinach salad takes the chill off of a cold evening. If you want to add some flavor I'd substitute bacon fat for the sauté of the mushrooms and garlic. Paired up with a nice glass of Chardonnay. Spinach Salad with Mushrooms, Croutons and Warm Lemon dressing.
Local chef Michele Anna Jordan always puts together great wine-friendly recipes. This one uses root vegetables as a base for the mushrooms. Roasted lamb or beef would make a great side to this side: Sautéed Mushrooms Over Parsnip, Celery Root, & Potato Purée
Would you like to wow your guests over the holidays? Try this bowl of deliciousness featuring mushrooms and tangy goat cheese. Our Rosé would go nicely especially with some turkey on the plate. Focaccia Bread Pudding with Mushrooms & Goat Cheese
Stews & Soups:
I have been making this Wild Mushroom Soup ever since I found it in a newsletter by Julee Rosso (of Silver Palate fame). I was lucky enough to subscribe over a couple of years and many of her recipes are in my rotation. This one however gets the most play especially now during the holidays. Serve it as an appetizer, pour it in demitasse cups for a buffet or serve up a bowl during the week-made ahead it just gets better. Pinot Noir is my choice as a pairing.
Ed and I came up with this recipe in our early years of marriage-a take on Beef Bourguignon-Beef Mother Clone starring our flagship Zin and we gilded the lily with dried porcini. Long cooking tenderizes the beef and the flavors meld perfectly. I recommend pairing with any of our Zinfandels!
Mains:
Portobellos are very versatile as you can roast and slice like a steak or make this Quinoa Stuffed Portobello Mushrooms-don't skip the prosciutto which adds a nice salty kick. Pair up with our Merlot for a tasty combination.
Ribeye Steak with Black Trumpet Mushrooms and Blue Cheese, from local chef Michele Anna Jordan, has a secret ingredient-Porcini Powder. Along with the black trumpet mushrooms (if you don't have any of these you can substitute shitake or morel) you have an amazing steak dish with depth of flavor. Pair with any of our Cabernet Sauvignons-you won't be disappointed!
Slow cookers are the greatest kitchen help during the fall and winter-I always love walking in the door and taking in the wonderful aromas of a long cooked meal. The Slow Cooker Beef with Pasta & Porcini is one of those fragrant and virtually easy dishes to make with deep flavors to boot. Pair up with our Merlot or Cabernet Sauvignon.
Categories
Recent posts
Popular tags