Vino In My Dino
September 29, 2020 11:36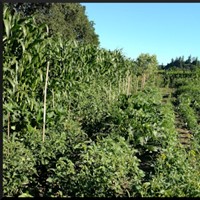 Our grape harvest is over and many gardens around the nation are finishing up their summer crops. This time of year I am reminded of the many summers spent during my childhood while growing up in the middle of the winery, vineyards and enjoying the abundance from a large garden.
When my grandparents purchased the property in 1927 it came with space to farm-and it is what sustained the young and growing family for many years. When I was growing the garden area was surrounded by buildings and eventually became the place where our bottling warehouse is today. In it's heyday it featured several fruit trees, including citrus, pear, apple, peach, prune, apricot, cherry, olive along with hazelnut and walnut trees. When we moved there my parents kept up the garden which, in the summertime, was planted to many annuals with beans, zucchini, tomatoes and more. Preserving these fruits and vegetables was a focus in our family and every year we helped process the produce into jams, quarts of pears and peaches, applesauce, pints of zucchini pickles and more. We had a basement with many shelves lined with enough home canned treats to last to the next summer. I remember as well the privilege of going down to the dark basement and picking out a jar of applesauce or apricot jam!
Having a garden in those years was important. It engaged you with the earth. It fed your family. It was sustainable. Another way of using all the abundance from this garden was to have alfresco gatherings that my grandparents hosted over their early years-up until the 1960s when they retired. Of course vino was always part of the experience and these meals wouldn't be the same without Giovanni's favorite bottle of red wine in the mix. Wine was a natural part of dinnertime at my childhood home and continues today to be part of our meals today. I have been regaled with many stories of those lunches and dinners-people came from all over the Bay Area-friends or family-to join in this wonderful Sunday ritual and the food prepared by my grandmother made it all the more delicious.
I do have a COVID confession: I didn't get the garden bug. We grow a few herbs at home (just started this during the pandemic) and when we are finished with the house project in a year or two we have a dream of putting in a nice garden-Ed also grew up with a similar experience in his family. In the meantime, we'll depend on the farmer's market and friends dropping off their garden extras! Here are some great recipes with the idea of using up the last of the season's produce!
Creamy Corn Soup with Red Pepper Sauce
https://www.pedroncelli.com/our-story/recipes/categories/salads-soups-sides-sauces/creamy-corn-soup-with-roasted-red-peppers/
Mathilde's Tomato Tart
https://www.pedroncelli.com/our-story/recipes/categories/salads-soups-sides-sauces/mathildes-tomato-tart/
Zucchini Pickles (Bread & Butter style)
https://www.pedroncelli.com/our-story/recipes/categories/appetizers/zuchini-bread-butter-pickles/
Categories
Recent posts
Popular tags