Vino In My Dino
August 31, 2020 16:19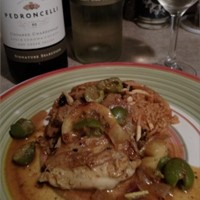 The recipe for the Moroccan Chicken with Roasted Lemons and Green Olives seen above was another effort to flavor up the bird.
In the early years of our marriage, which came with a ready made family including two step-children, I became the cook. Ed and I worked full time and I needed to come up with recipes that were quick and on the table early enough to get everyone fed and into bed so they were ready for school the next day. Chicken typically played top billing in the weekly menus.
First let me back up for a moment. These #pairitwithped posts are written with my son Joe in mind. He came up with the title that I now use each month when I share stories about food, wine and experiences. He is also the one who came up with "Chicken...again?" when he was a boy about his sons' age. While it was a joke in our house in those early days that we indeed ate too much chicken-boneless skinless chicken breasts to be exact, the refrain became common. I bought them by the score at Costco and, while we didn't exactly have it EVERY night for dinner it was on the table frequently. And Joe would ask "Chicken….again?"
In those early days I learned the finer points of flavoring up this bland protein mostly with garlic and onion. Chicken itself is a great vehicle for many different types of flavors from Chile Lime to Garam Masala to Five Spice. Marinating in white wine, garlic and rosemary is still Ed's favorite way to fix it these days as well as his more recent Chile Lime concoction. I'll have to admit we buy whole chickens or chicken thighs these days-our tastes have changed. Could it really have been too many boneless skinless chicken breasts? We prefer the flavor of the whole bird, skin and bones add flavor and keeps the chicken moist. On hectic evenings or boat nights I am known to pick up an already roasted chicken at the store-time saving and so convenient! But there is nothing like time on our hands these days during the pandemic to sharpen our culinary skills. Spatchcock anyone? Here are some of my favorite dishes including my notes on each recipe.
Chicken Scallopini a la Phyllis
Fast food--at home?  Sure you can do it—I love to find recipes that don't take forever to fix—a meal in 30 minutes is my favorite type during the week.  And a glass of wine is the perfect match.  Here is one of my mom's recipes—delicious with our Chardonnay or Pinot Noir.
Growing up "Dry Creek" means we knew what it was to be the "Buckle on the Prune Belt". Prunes were the major part of ag in Sonoma County, and none more than here in Dry Creek Valley. Yes, that wonderful, rich sweet flavor of a dried plum with chiles and chicken-you'll be so happy you made this and paired it with our Zinfandel or Merlot.
30 years ago the organization known as ZAP (Zinfandel Advocates & Producers) was born because California's grape was unique and unknown to many outside of the state. Margaret Smith was the first executive director and she collaborated with Jan Nix to publish one of my favorite recipe collections: Zinfandel Cookbook: Food to go with California's Heritage Wine. This recipe is a take on Coq au Vin-get it? Easy to fix, flavorful and a wine friendly combination. Pair it with any of our Zinfandels of course!
Featuring those boneless skinless beauties this is a marinade packed with flavor in seven ingredients. Over the years we have developed many marinades yet they remain in our heads rather than on paper. This one is typical by using a combination of herbs and spices to flavor up the chicken. The fun of finding the right combination has tripled during COVID-cooking at home definitely challenges us to go beyond the usual suspects. Pair with our Chardonnay or Sauvignon Blanc.
There is a moral to the story or perhaps I'd call it karma. Joe mostly cooks chicken these days and his son Jordan ONLY eats chicken… And for more ideas on what to do with chicken visit my Recipe site here. 
Categories
Recent posts
Popular tags