Vino In My Dino
February 26, 2016 17:25
Open That Bottle Night is tomorrow night, the 27th of February. This is a fun way to take a look at the wines you have stored or saved over the years-and even if you don't have a cellar or closet to age wine pick something up you haven't tried before.
In the case you have an older vintage on your hands remember to check a few things out: fill level of bottle or any leaks through the cork. If you have a two-pronged wine opener this is best for older corks but careful use of a regular corkscrew should to the trick. Decant if you like although I think the aromas of an older vintage (15-20-30 years old) tends to dissipate quickly. Needless to say don't linger over an aged wine-it is delicate in its old age.
I am at this moment looking at an empty bottle of the 1972 Pinot Noir, one of which we bought at your winery. My husband is now gone and I decided to try it to see if it as still drinkable. Well, it is the most fabulous wine I had ever tasted and I drank it at the rate of about an inch an evening. Thank your family for such a wonderful experience. Geraldine W.
Re: 1973 Cabernet Sauvignon: Opened tonight with little hope that it would still be drinkable. Amazingly alive and vibrant. Tastes 20 yrs younger You guys are good. Charles J.
I recently drank a 1978 bottle of your Cabernet Sauvignon & it was terrific! I found it in a wine rack in the garage of an old house near Eugene, Oregon, which hadn't been lived in for over 10 years. It had undergone winter lows of about 20 degrees & summer highs of 90 - 100 degrees. This is approximate, but it would be simple enough to check the weather history. Bill M. (while we don't recommend our Cabernet be aged this way I am glad it tasted good!)
And the highly unusual for a 23 year old white wine:
My wife and i just opened a bottle of 1985 Chenin Blanc that my father was keeping in his celler these past few years (23). We had the pleasure of opening this bottle tonight and it was excellent. We normally drink your cab, but very much enjoyed this bottle. Thank you, your family, and hard working staff for the wonderful wines you bring into this world. Bill & Diana T.
A toast in my Dino with a bottle of 2004 Mother Clone Zinfandel-that is the plan for tomorrow night!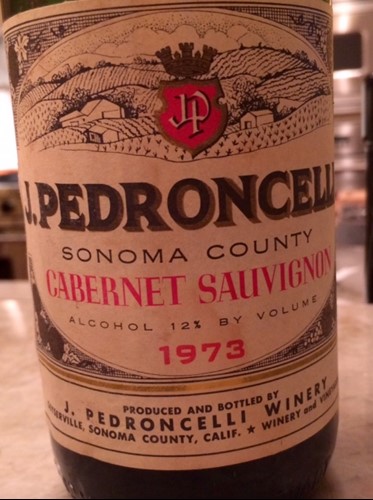 Categories
Recent posts
Popular tags