Vino In My Dino
February 24, 2016 17:29
Open That Bottle Night (OTBN for short) is scheduled for Saturday February 27. Here is a link to the people and the history behind it, Dorothy J. Gaiter and John Brecher. I am championing this event because I think those of us who love wine have stored away a bottle or two, saving it for a special day. OTBN is that special day when hundreds, maybe thousands, of wine lovers will be opening their special bottle along with us.
Gather friends or loved ones close and have a few things on hand in case they are needed. First check the bottle you'd like to open and make sure the wine is sound by checking the fill level or if there are any leaks around the capsule/cork. Have a two pronged opener in case the cork is old and delicate-wines over 20 years old would be in this category as the cork ages too! If you have a decanter use it on wines less than 10 vintages old-older than this the decanting might aerate the delicate aromas away. As the OTBN rules suggest, have a 'plan B' wine on hand in case the first one has gone over the hill. Have fun with this-I'll be posting my bottle on Friday and opening it Saturday night. A toast to older vintages and special wines!
Here is a bottle we opened with friends from Amathus Drinks who were visiting us this week from England-it was truly enjoyed by all. The wine was sound, the fruit and oak notes still alive, yet the tannin had softened up quite a bit making it all the more enjoyable.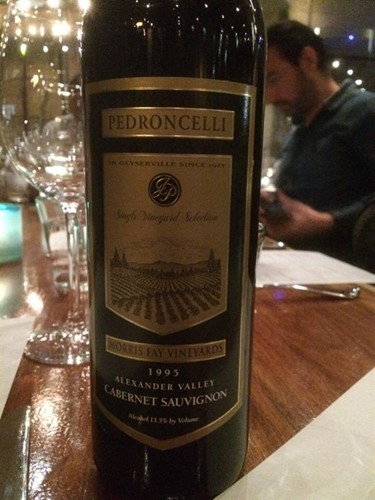 Say hello to our friends Lucy, to my left, my husband Ed, Leo, Lee and Will. We had a smashing dinner!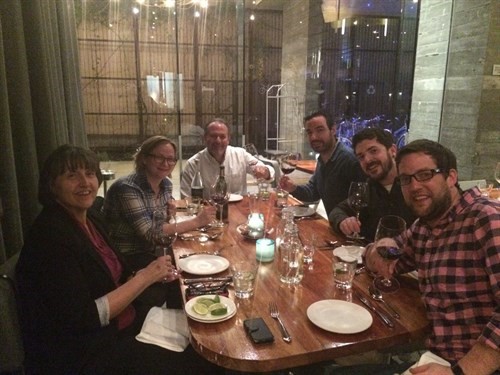 Categories
Recent posts
Popular tags