Vino In My Dino
June 30, 2017 09:47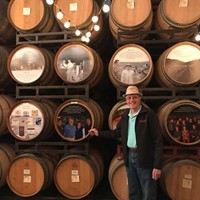 July 22 1927 is an important date at the winery. My grandfather signed the papers for the property that included 25 acres of grapes, a shuttered winery and a home mid-Prohibition 90 years ago this month. He left quite a legacy.
Other inventions and remarkable achievements of 1927 include Wonder Bread and Lender's Bagels, the Oscars (!) founded by Louis B. Mayer, Babe Ruth hit his 60th homerun (he held the record for 30 years!) and Charles A. Lindbergh, at age 25, made the first transatlantic non-stop solo flight.
Actually my grandparents and the second generation of John and Jim left a legacy that continues today through the fourth generation, so far. I am certain when my grandfather signed the papers he had his young family of three on his mind (my dad Jim would be born 5 years later) and had hope this property would support them. Both vineyard and farm at this time, they raised everything needed from the animals to the crops which supported them. I remember in the 1960s, after we moved to the family home when my grandparents retired, venturing into the basement and seeing rows of mason jars full of the previous year's harvest, venison sausages aging on hooks and the smell of vinegar being made in barrels around the corner.
Stories of my grandparents surviving Prohibition, the Great Depression which kicked in two years after the purchase and the start-up of a business new to them are fun to recall. The time my grandfather and uncle John delivered grapes to a place near Redding and the axle broke. My grandfather had to go to the nearest town to get help leaving 7 year old John in the truck with the grapes. Or when my grandparents returned home after a day of work in the vineyard only to discover they were missing 5 year old Jim. They found him under a vine with his dog, safe and sound. I have my own memories of roaming the cellar and the vineyards with my sisters making the whole place our playground. I have seen my own grandchildren and grandnephews running around the place and hope to see the sixth generation doing the same.
It's all in a days' work in our little corner of Dry Creek Valley. From those humble beginnings we, as a family, are tending the vineyards, producing great wines, hosting friends, making sure we continue the legacy born on July 22. A toast to those early days with a splash of Zinfandel in my Dino!
Categories
Recent posts
Popular tags