Vino In My Dino
April 26, 2021 13:51
Thank you to all who sent in their kind words at the passing of my brother-in-law Jon from Multiple Myeloma. I sent them along to my sister Joanna and his family and they are thankful for all of them. In February I visited with Jon to have him tell his story and he chose to talk about his alter-ego Schotzki. I didn't know about this part of his life and, if you knew him, you won't be surprised. 

It is the late 1990s and Jon is working at Buona Sera, in his hometown of Petaluma.  He meets co-workers who are writers and performers, beatniks and poets. He was hooked. He had never written free form poetry before. He was enthralled by the quest to find what it is they are talking about, the ideas, following the words and thoughts and how they expressed them. Sometimes the mystery was the greatest part of what they were doing. He loved word play and, pushing himself, he started writing and hit his stride.

Some feeling or impulse prompted him to take poetry to the people. He developed a 'poetry slam' summer tour. He went to work raising money to support this enterprise, from selling concert-style tshirts to books donated by local book stores, anything to fund his dream. Armed with a mic and an amplifier donated by a Cotati music store it began. Sometimes he performed from the back of a flatbed truck.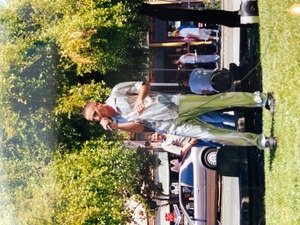 He produced four shows a month for four months around the county, in front of Safeway, Starbucks, or Aromas Roasters Coffee (where wife Joanna recalls the poetry slam and that she waited on them- before they got together). Schotzki was an androgynous persona and through him Jon lived out the fantasy of a David Bowie-inspired character. Tag line: Schotzki is your mother, Schotzki is your father. Let me guide you to rebirth and new life.

Later Jon continued the concept with a group called Band of Mayhem. He recalled a woman who had Tourette's Syndrome but when onstage it disappeared while reciting her poetry. He also performed at Petaluma's Phoenix Theater. One of his proudest moments was when he opened for poet Lawrence Ferlinghetti. His performance included one of his signature poems Pistachio (Jon performs the poem in this video clip taken at Joanna's birthday party a few years ago), and handed out pistachios to the crowd. He recalls it was an amazing time. People were open to watching the shows. Teachers invited him to their English classes-where he showed the kids that poetry was alive not stale. He was very proud of his work. "If you immerse yourself in the arts then you progress and hold onto your true self; your true values."

His friend Matt Harstead was the body guard/production assistant and Govind Davis his partner in crime who helped produce the slam shows. They never counted the numbers of people who attended but they always drew a crowd. The last show was held at the square in Sonoma. He had five guest poets and a couple of bands; Schotzki was the final act.

He continued writing poetry and later began creating digital art on his Instagram account @schotzki. Since his cancer diagnosis he filled his canvases with thoughts and feelings that he needed to express. These became much more personal to him. He wrote pages of poetry. As he told me: not gotcha poems but ideas to get people riled up or laughing hysterically. He enjoyed making people laugh and loved it when they 'got' the humor. This connection was a huge part of both Jon and Schotzki.

Jon finished our visit with, "Cancer makes you think long and hard about what you have done with your life. It was and has become very personal art. I accomplished what I wanted to do. In my life I have done that in other areas; from Schotzki I was given an amazing ability to connect."

I'll note his roles at both Bistro 29 and Pedroncelli encompassed his love of people and making them part of the performance of the moment. When you dined at Bistro 29 you felt part of a wonderful experience orchestrated by Jon. When you visited the tasting room the give and take was the key. As Wine Club Manager talking on the phone, he made you feel a part of the family. His hearty laugh still echoes in my memory. Most importantly he wanted the back and forth of the connection. Three years ago, when making the transition from Sonoma County to Grass Valley, he stayed with Jim and Phyllis, his in-laws, and became their 'son' for those months. He reminisced about Phyllis' excellent dinners, their lively conversations each night and lots of armchair coaching of ball games with Jim. He took them out of their comfort zone as only Jon could do.
Later this year we will be bottling up a 2019 Zinfandel and adding a label commemorating Jon and Schotzki. It will feature one of his digital canvases. All proceeds will go toward Multiple Myeloma research.
 
Categories
Recent posts
Popular tags