Vino In My Dino
December 24, 2020 13:01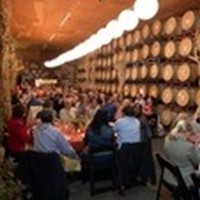 Time for a check in and to see how you are doing as we have come along together on this pandemic journey over the last 40 weeks. How are you doing as the days get shorter and we look to the New Year to bring us all some relief? I do know many of us are facing this pandemic with weary souls. A lockdown…again? Stricter guidelines…again? Seems like we'll be wearing our masks for an eternity.
I was talking with a friend the other day, COVID-style via Zoom. We were shooting the breeze about the changes in the holiday season this year because, you know, COVID. I realized this is a rare time for our nation, state, town and neighborhoods-we are all sharing in similar experiences during this pandemic: staying at home, gathering together less and much smaller groups, and stemming the tide of the virus by following guidelines. We make changes in how we go about our lives and this month how we celebrate the holidays. At the very least we are required to wear masks and keep our distance out in public. Many more of us stay within our bubbles, work remotely or, if you are an essential worker, strive to remain safe. When I began to think about the virus, invisible except by the numbers, it struck me that this is one of those times where we are sharing an experience. We are in the same boat, some in deeper, more challenging water than others however.
As defined by my favorite resource Google: A shared experience is exactly what it sounds like: seeing, hearing, or doing the same thing as someone else. Although it's a simple concept, shared experiences have a deep impact on human socialization because they enhance each person's individual experience. A shared experience is any experience that causes individuals to identify with each other. Examples like these:  Language, Nature, Art, Holidays, Meals, Rites of Passage, Hardship, Humor, Cultural Traditions. This pandemic is an experience we all share and really are in it together. We follow the rules not only for our own protection but the care and concern of those who are in need of protection.
This image was sent to me by Colin our Wine Club Manager who has two young children at home-Milo and Lucie. Outside of my grandsons he has the cutest kids around. Sometimes he takes Milo to work with him to pack up wine and the like because he is one of our staff members working remotely and 7 year old Milo is distance learning at home. While waiting for dad to finish Milo drew this picture of our iconic sign outside of our tasting room. It is a great rendition and he has talent! (You may not know this connection but his great-grandfather Elmo Barbieri worked in our tasting room years ago.) Father and son will remember this time-a memory they wouldn't have if Milo attended school. A silver lining memory for the future.
The silver linings aren't always easy to see while we are in the midst of things like the holidays and this pandemic. During these times it is worth taking a step back and seeing the world through the future, to a time when we look back and realize we made a way to reach out or not be discouraged, or when we look back at this time we spent working remotely, or pulling our hair out at trying to help children distance learn this shared experience will be what we remember. A milestone, a standing stone, a marker: remember the time we…
Categories
Recent posts
Popular tags