Vino In My Dino
November 2, 2020 11:01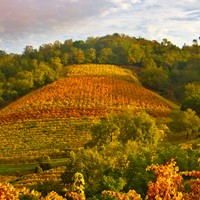 As I write this note the time change comes tonight for many of us here in the United States. With it comes a slight disturbance in our daily patterns-it will be lighter in the morning and darker as 5pm approaches. It is my favorite time of year-not the time change but the turning of the season as fall approaches winter. No doubt we have had a few changes to our daily patterns in the last 8 months.
This time was also known as the travel season for me. Hopping on a plane and working in my markets about every other week has been postponed for the time being. Believe me I don't miss the early morning rush to get to the airport and of course the stress that goes along with travel-getting there on time, meeting new people (I'm an introvert remember?) and logging time in a car with someone I hadn't met before and engaging with them about wine. I actually do miss that last part.
Other changes include not going to my office where I had been for 35 years (outside of the travel of course). Here I am writing this note from my home in Healdsburg. I am well aware of the changes and sacrifices made by our staff and you at home. Some of you are first responders and have worked tirelessly to stem this tide. Others of us are trying to educate their kids. Even more are just getting things done in spite of the changes.
When I think back to the years before airplanes, before the internet, before the 'pacing in front of the microwave' waiting the 30 seconds it takes to heat up my coffee I am reminded of simpler times. The holiday decorations didn't become available in October. We took time to enjoy the season, settling into the rhythms of the days leading up to the year's end. The rat race all but did away with the enjoyment of a single day and what it could bring. Taking time now will help us all appreciate the quiet moments.
We are finding ways to reach you-this note from home and your notes back to me from your home, phone calls and virtual tastings. The holidays will be different this year but this is something we already know and have been practicing for eight months. We may zoom across the table this year, or have mini family gatherings compared to other years. But central to it all, and perhaps even more special this year, will be the connections we make around a table or device and a good bottle of wine. (Ours we hope!)
Tonight I'll get to see what my grandsons have dressed up in for Halloween. We'll see it from photos or videos our kids send to us. The season is changing. With this change we all make way in our lives for doing things differently and settle into the coming days and weeks with the assurance that the next season upon us will be filled with gratitude for the big and small things in our lives.
Categories
Recent posts
Popular tags