Vino In My Dino
December 1, 2020 11:08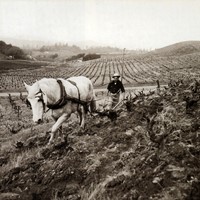 The other day I was helping out with the curbside pick-up of our November Wine Club Selections. Club members pulled up to the cellar door and drove away with their orders. It was one of those truly beautiful fall days here in Dry Creek Valley. Blue skies, warm sun and the autumn color in the Mother Clone vineyard just across the way made the afternoon so perfect. It made me think back to how many friends have stopped by to pick up wine over the decades from my grandfather then my father. I was struck by the thought that we all share a love of wine and, like the vines in front of me, are in turn connected to each other, even generationally.

I have written about grapevines and their physiology before.  Lance, my brother-in-law and the vineyard manager, has compared vines to people when he talks about how they respond to heat-they wilt like we do, they seek to protect the crop by slightly moving to shade the fruit like an umbrella. I have heard how some vines have roots that measure 40 feet because they are looking for water to survive. They like to branch out too-sometimes almost too much as the canopy above becomes jungle-like before the vineyard crew works at managing the growth. The vines even need a drink of water after they are done with harvest. Sounds to me like there are some similarities!

Last weekend it was nice to see old friends and new. The experience reminded me of those Mother Clone vines-how their roots go deep to establish a well-connected network. That system supports and sustains the vines throughout the growing season and over the years. A natural benefit of making wine for 90 years and sharing with everyone, from neighbors to across the nation and globally, creates the bond between us and you. Our wine club is another way we stay in touch and is how we remain connected. At the tasting room there is the exchange of conversation, the fun of finding something you like, and sharing with friends and family. Once home we are connected whether by phone or through these emails or virtual events.

While the vineyards are immune to COVID they do progress through the fall and into the winter by being connected to the seasons, to the climate and the soil in which they are planted. These are vital to the life of the vineyard. Connection is what we look for as the nights get longer and winter looms. Something about the chill in the air makes us seek out those warm places-usually a pub, a restaurant or coffee house. Right now we are finding out how cozy our kitchen table, living room or dining room is as we find those places are right in our own homes.

Of course, there are many ways we can stay connected. The usual suspects include the phone calls, emails, letters, virtual visits. As the days continue to get shorter and the holidays approach we look to these relationships-those branches reaching out to connect with our past, present and future. Music, wine, politics, food, outdoor activities, quilting, play groups for kids or dogs. As long as we keep our eyes open and see those around us-distanced or not-we are rooted, like the vines, and connected.

Categories
Recent posts
Popular tags