Vino In My Dino
April 12, 2021 10:08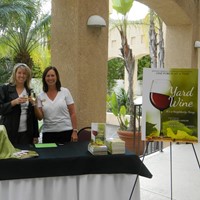 Do you feel like you have been hibernating during the pandemic? I do. Spring is here and bringing warm days ahead. I am itching to break out of my shell and go on more hikes, maybe some biking and some downtime outdoors as we approach summer.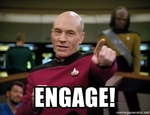 As one of my favorite starship captains says-it's time to engage! There are many ways to engage in the world whether socially distant or not. Sinking your hands into fresh earth to plant something, take a hike and commune with nature, become innovative and wake up to a new routine, or break out and reinvent yourself. Having fun is important too-it helps us to engage with each other on another level. For instance, playing Scrabble with Carol, my sister-in-law, became a highly competitive and fun time as the more we played the more we learned  about each other. Who knew Xis is an official Scrabble word?

Beginning last summer one of our neighborhood cul de sacs held a weekly yet socially distant gathering around their court-they brought out chairs, tables, food and wine. They took a break in winter but last Saturday, as I walked down the street, I saw they were back together-still distanced. A book came to mind as I passed them: Yard Wine: It's a Neighborly Thing "Bringing America's Neighborhoods Together One Porch at a Time."

It was originally published in 2011 and is pairs nicely with the theme of my note. I think it is a charming book and idea worthy of a rebirth as we move out of our pandemic guidelines and into more contact with our neighbors and friends. And it includes wine!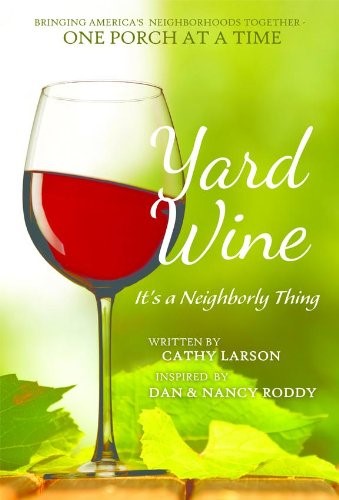 An excerpt from their book: "Do you long for neighborhoods of the past? When neighbors knew each other's names, visited on front porches, and enjoyed one another's' company? Now is the perfect time to return to these "good old days" that provided great personal fulfillment, greater conversation, and lifelong, face-to-face friendships. In Yard Wine: It's a Neighborly Thing authors Cathy Larson and Nancy Roddy show you how to create your own Yard Wine neighborhood, use the power of Yard Wine and find the secret to happiness and a rejuvenated spirit in your own front yard — starting tonight! All you need is an open heart … and an open bottle of wine. Cheers!"

The authors share stories of relationships born from time spent outside the house, connecting with their neighborhood in a spontaneous way. It is the simple concept of sitting outside (perhaps outside of your comfort zone too) and making your front yard your front room. When we first discovered this concept Ed and I followed their example-we sat on our front lawn, chatted, sipped wine and greeted passersby. It wasn't as widely accepted back then so I think we need to get our Yard Wine flag and fly it, set up lawn chairs and greet and talk to our neighbors walking by our home. Just in the course of pandemic we have new neighbors, times have changed and it's time to reconnect or make new connections. And of course invite them to sip some wine with us. Now where are my Go-Vinos?

Wine is engaging. Wine is fun. I can't think of anything more inviting than pouring a glass of wine and sitting down after a long day to relax and connect-how about you? Send me your photos from your front porch, lawn, deck or stoop and I'll share them. Sip, visit and engage!
Note: the book is no longer for sale but it can be found on Kindle, via Amazon.
Categories
Recent posts
Popular tags