Vino In My Dino
December 9, 2015 11:44
My partner in life and wine is my husband Ed. We were married 26 years ago today. 11 years ago we began working together here at the winery (and survived!). So what does this have to do with wine? It brings to my mind the relationship between wine and food and why this is such an important factor when I talk about our wines. It has to do with tradition and style.
Coming from an Italian-American family, and a wine family to boot, food and wine have always been together as far back as I can remember. And by the looks of family meal photos predating my birth it seems it always has been. Traditions are begun at the table for most of us-whether it is who is here for the holidays (and where they sit) or a standing date night dinner out. Family traditions are begun by each generation echoing those of their predecessors and then making their own. For my family one of our traditions is a Prime Rib dinner on Christmas Eve. The table has grown as family is added but the importance for Ed and me are the faces around the table. The wines we pick to go with the meal are important too as they add so much to the celebration.
The style of our wines is one which pairs well with food (or your glass as my husband likes to add). They stand on their own and the experience is heightened when added to a meal. Acidity in our wines helps bridge the wine with food because when in balance-between the fruit, tannins and acid-there is a great match made. Traditions and style go a long way in both our marriage and that of wine & food. Wine is the centerpiece of our lives and pairing with food is as natural to us as a loaf of bread, a bottle of wine, and thou. A toast to 26 years with a splash of champagne in my Dino!
My parents Jim and Phyllis, Ed and me at a holiday dinner mock up this summer-thanks to Dianna Murphy Photography!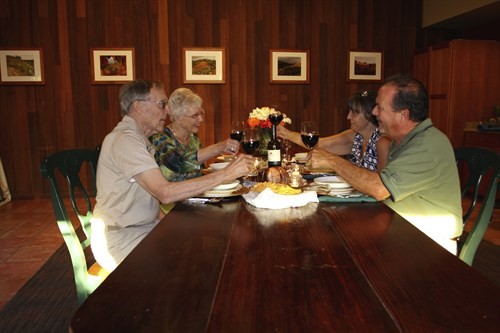 Categories
Recent posts
Popular tags