Vino In My Dino
December 27, 2021 12:41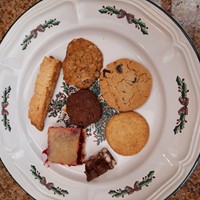 This is such a wonderful time of the year for baking-at least for me so this note is dedicated to sweet things.  I am carrying on a tradition that began with my mom's mother Virginia Larsen. She was the baker in the family and lived with us during my growing up years. She is the source of my joy of baking and I think of her when I am in my groove. She baked everything from Irish Soda Bread (her maiden name was O'Neill) to the best apple pie around using Gravensteins, a local heirloom apple and her chocolate chip cookies were legendary. My sisters and I still reminisce about the 'doughboys' she made from the leftover pie crust-oh the memory of waiting for them to come out of the oven with cinnamon sugar and butter tucked into the layers.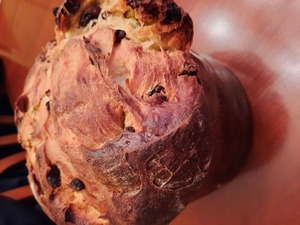 As tradition has it I bake an assortment of holiday cookies. My preference is for standard cookies rather than decorated with icing and sprinkles. And just like every year I baked a Panettone for my dad's gift along with many family favorites including Chocolate Mint Truffle Cookies, Orange Almond Biscotti, Cape Cod Oatmeal Raisin Chocolate Chip, Snickerdoodles, and Molasses Crinkles. A batch of Rocky Road rounded things out. Ed and I worked together on some of these. Mostly he gave great moral support and was the CCT (Chief Cookie Tester). The other night when we were boxing up the goodies and I was finishing the name tags (cue crumbs flying) I noticed he was taking it all in and smiling. I asked him why and he said he just really loves this part of the holidays. I do too.

There are memories tied to each of the recipes below—I am sure you have your own memories and stories about baked goodies. I always love to hear your stories and love it even more if you share your recipes with me.

My great aunt Rena, my grandmother's sister, would give us a big box of cookies every Christmas. We looked forward to opening it up and grabbing our favorites. One of them was these Lemon Lassies, lemon and coconut wrapped in soft dough kind of like a fig newton but better. Pair with our Chardonnay.

Holiday Fruit Bread-yep this is a cross between a sweet bread like panettone and fruitcake flavors. This is from my aunt Marianne's collection of recipes. I remember opening her freezer in July and fruitcake was there, all year round evidently. Pair with our Sonoma Classico.

This recipe for Port Fruit Bars came highly recommended to me by my aunt Christine. Her daughter Connie had developed the recipe to go with our Port. A perfect pairing in my opinion.

Years ago my dear aunt Marianne gave me this recipe for Orange Almond Biscotti and encouraged me to bake and enter them in a local Biscotti Bake Off. I won first place for the non-traditional category. I have been baking these for over 30 years. Ed won't let a year go by without these. Pair with Mother Clone Zinfandel.

I ran across this recipe for Cranberry Upside Down Cake a few years ago and baked it for a dinner with friends during the holidays. It is a beautiful presentation and oh so delicious! Pair with our Port.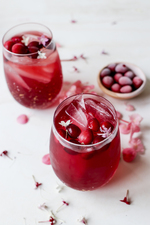 You know I couldn't end with just desserts. How about a couple of wine based drinks! Our Rosé is perfect with a few dashes of orange bitters in the CranRosé and of course who doesn't love Mulled Wine-the aromatics fill the house with holiday cheer!

May you all enjoy the sweet things in life with family and friends, near and far.
Categories
Recent posts
Popular tags