Vino In My Dino
October 13, 2016 16:36
Over two days I took a walk around the vineyard as the vineyard crew prepares for fall and winter. Dirk tagged along as he always does during my noon time meanderings.
We finished with grapes on September 30 and our last tank of new wine was pressed off yesterday. The 2016 vintage is tucked away undergoing the next step of secondary fermentation. But what happens to the vineyard post-harvest? I walked around the Home Ranch over the last two days to check things out. Bright and sunny on Wednesday and clouds gathering on Thursday for the storm headed our way we made our way up and down the hillsides.
Over the last week our vineyard crew was kept busy buttoning things up as we have an imminent rain storm predicted for this weekend. They worked on hay spreading along the vineyard avenues including one block where the vines were pulled to make way for a new planting. This cover crop of hay will germinate in the rain and help secure the soil and control erosion on the ranch. Soil amendments and other work will take place over the next few weeks. Just another day on the farm. A toast to fall in all its' splendor with a splash of Zinfandel in my Dino!
Bright and sunny on October 12, Dirk checks the newly spread hay.
October 13 and the block is ready for rain, clouds moving in quickly.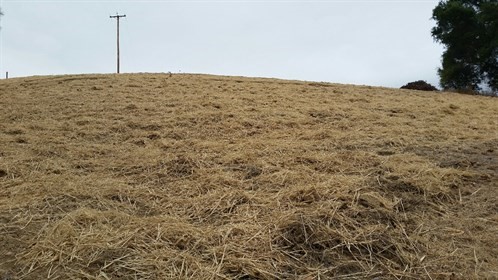 I gathered leaves from some virused Zinfandel vines for an event this weekend. Our own fall colors are quite beautiful and they make a nice centerpiece.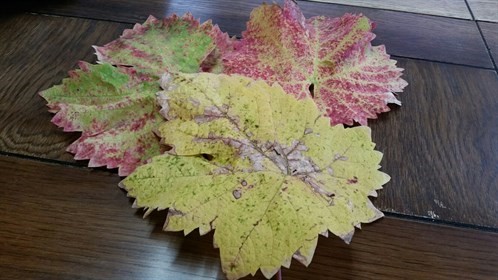 While I was gathering leaves, Dirk took his own walk and after 15 minutes we found each other again-both quite relieved! The wild grape vine in the background is beautiful too!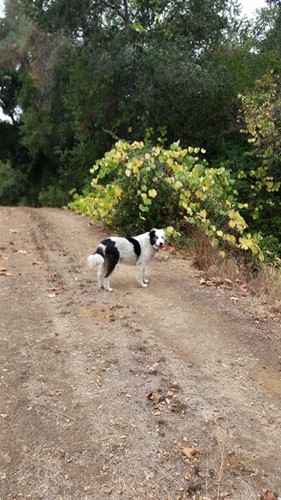 Wild grapes on the vine. The birds will eat these!
Categories
Recent posts
Popular tags