Vino In My Dino
August 10, 2016 12:55
My family and I grew up in the middle of things, literally, since our home was 'wine central' to the vineyards and winery. While there were many activities throughout the year I think harvest was the most exciting. It is the culmination of hard work getting the vineyard ready and sitting on pins and needles while watching the weather throughout and always hoping the rain stayed away until after the last grape was picked.
My mom Phyllis remembers weighing in the trucks during the first harvest after they had moved into the family home. At that time grapes were picked into wooden boxes that came stacked high on truck beds. When my sister Joanna was born in 1966 mom recalls taking her in her infant seat to weigh the grapes, watching from her perch nearby. Many of the Italian growers brought more than grapes and the chestnuts, mushrooms and other fall crops were left for the family to enjoy. The names rolled off her tongue like it was yesterday: Capucci, Zini, Buchignani, Teldeschi, Pedroni and Glaser (the German in the bunch).
My sister Lisa remembers the sweetness in the air of juice just before fermentation followed by the pervasive smell of fermenting grapes which is quite pungent. Also the constant noise of the equipment running nearly around the clock. The gruff Italian growers would visit the tasting room once their grapes were weighed in and on the crushpad. Lisa would pour them a standard tasting sample and they'd tell her it was a drink they were after not a taste, so fill it up! We both recalled when we'd take grapes up to the house and 'make wine' by squeezing them into our plastic wine glasses from our plastic dinner ware set. Pretty certain we left a sticky mess on the table. Sorry mom!
Cousin Richard, who also grew up on the family property, recounts the bees, the heat, sweat, stickiness, blood, thirst and all-around hard work of being a go-fer in the vineyard and cellar. He remembered when some growers would throw the sweetest grapes on top and objected when he took the sample from the whole load. They wanted their sugar sample to be high-back then they were paid on how ripe the grapes were. I think he says it best here "The smell of must will stay with me for the rest of my life."
I'll toast to another round of memories with a splash of Cabernet in my Dino.
Here is the typical grape box Phyllis Pedroncelli remembers, this one from our own stash. Imagine 30 or 40 of these being emptied one at a time into the crusher-back breaking work!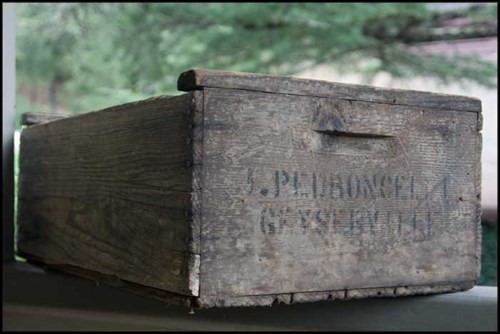 Categories
Recent posts
Popular tags