Vino In My Dino
August 7, 2015 15:01
This month the theme is harvest know-how and today's topic is waiting. Patience is a virtue especially when it comes to the starting date of harvest. Tom Petty had it right when he sang "the waiting is the hardest part". Lance our vineyard manager and his crew are out testing the vineyard blocks for ripeness and keeping an eye on things between our vineyards and our grower's grapes. He works with Montse to target a picking date but it seems we'll be waiting another 10 days or so, depending on the weather and other conditions.
Now the vineyard crew is kept busy pulling leaves to expose the ripening fruit to the full benefit of the sun, the cellar crew is wrapping up bottling because they won't begin this process again until November, following the final pressing of new wine and gearing back up for the next tank of finished wine. Preparation of the crush area as well as repair on any of the equipment is in the last stages, deep cleaning is taking place in the cellar. We're anticipating a somewhat early harvest and stand ready for the first load of fruit to cross the crush pad. A toast to waiting for the perfect moment to pick.
The vineyards are slowly ripening with our warm days and fog-infused nights. Seen here is our Sangiovese terraces in late morning as the fog burns away.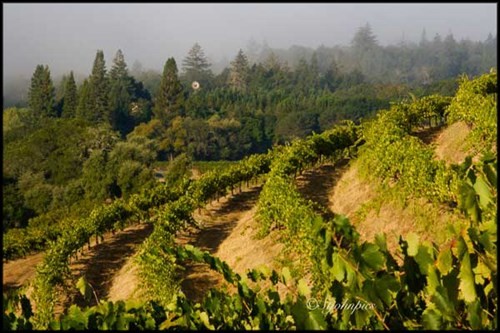 Categories
Recent posts
Popular tags