Vino In My Dino
August 5, 2015 15:06
This month's theme is a behind-the-scene look at harvest and everything leading up to it. Today's post is about the growing season and what we have experienced so far.
The growing season stretches from bud-break to the first grapes harvested. After that we usually refer to it as the harvest season and all the successes and challenges of that time period. Bud break occurred very early this year where some of the vines were coming out of dormancy in the very beginning of March, about 3 weeks early because of the warm winter weather. It felt like spring in February. This was followed by bloom and crop set taking place over April and May, also a bit earlier than normal. The ensuing weather during June and July gave us some warm to hot days, some as high as 102 while others were in the 80's. The vineyards then experienced veraison -the period when the hard green berries on the developing bunches start to soften and turn color. Another influence over this season was the drought we are currently experiencing.
Here are two views of the upcoming harvest as outlined by our winemaker Montse Reece and Vineyard Manager Lance Blakeley at the end of July:
Montse said, "We are 2-3 weeks to harvest of our Sauvignon Blanc. Yields overall are average. We do have smaller berries due in part to the drought. With less water in the berries they are more concentrated. We will be picking as early as possible to avoid high alcohols in the wine."
Lance said, "Early-around August 14-18 for Sauvignon Blanc. Quality looks very good but yields are lighter-Zin off 10% from last year. Vines are averaging themselves out from the larger crops in 2012 and 2013. As to the drought, this year we have been affected less than last year because we had more rainfall but we followed the extreme water-saving model from 2013 where we set up shorter water cycles and tried to stretch the intervals as best we can. We watch for yellowing leaves (a sign of vine stress) and cut back overall. We noticed smaller berries from shattering in the spring and think the grapes will achieve good ripeness in spite of some challenges."
A toast to the upcoming harvest with some vino in my Dino.
Here is a comparison of Cabernet Sauvignon, on the left, and Zinfandel on the right. These were taken in July and show the process of veraison, a pivotal point in the growing season.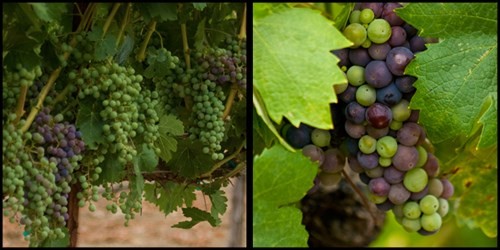 Categories
Recent posts
Popular tags