Vino In My Dino
August 24, 2018 10:34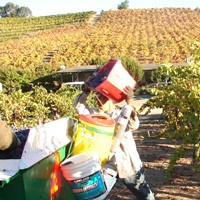 Join me as we prepare for our 91st harvest. Get the scoop on the preparation and the anticipation of the 2018 vintage.
Summer brings more than hot weather and ripening of the grapes. It brings with it a sense of anticipation because we know the beginning of harvest will soon be here-sometimes sooner rather than later as in vintages past (we harvested Sauvignon Blanc on August 10 in 2004 for instance-which was the earliest harvest on record). 2018 started a bit behind 2017 by just two days later and this timing is considered a normal start to the process of bringing in the grapes.
Over the last few weeks the cellar crew has finished barrel work and any bottling needed, cleaned up and tested equipment from the de-stemmer to the presses, the pumps and the chiller. The vineyard crew, with 100 acres of estate grapes, mainly kept watch if the vines needed water, checked grape loads on the vine or cleared out canes if the block was to be machine harvested. Lance, vineyard manager, went out and gathered grape samples to assess the brix (sugar) and acid.
The most important part of harvest preparation is how we go about deciding when to pick. Between the grape samples brought in and their analysis winemaker Montse works with Lance to decide the best time to bring in the grapes. Montse's focus is on the acidity and pH rather than the sugar. Our style has always leaned to higher acidity rather than overly ripe fruit, balancing all of it to bring out the best in each varietal.
Harvest means the first grapes coming are indeed the first wave. It doesn't mean every grape we grow or buy comes in one right after the other. It means sometimes there are pauses between varietals. After Sauvignon Blanc, the first grape in, comes the Zinfandel for our Rosé program (early pick to give us lower alcohol and higher acidity) followed by Chardonnay and Pinot Noir. Depending on the weather (you know us farmers-always at the mercy of what Mother Nature gives us) and as the individual blocks ripen more red varietals will make their way to the crushpad.
We began on August 30 and will likely take in our last grapes six weeks from now. That is if all the right pieces fall into place as we turn from August to September and beyond.
Categories
Recent posts
Popular tags