Vino In My Dino
May 24, 2019 15:50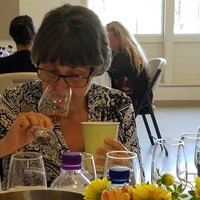 120 issues of my enewsletter have gone out to all of you, my friends, over the last 10 years-June marks the anniversary. Going even further back I have been writing the Pedroncelli newsletter for nearly 30 years beginning with the first issue in the spring of 1990. I'll be taking a look at some of the articles over the next year as I walk down memory lane-pretty sure many things have changed in the last 10 years and especially in the last 30.
The first enewsletter was sent in June 2009. Before this I had been sending out a newsletter quarterly via snail mail-and it didn't always have the most up-to-date information because of the lag between writing it, getting it printed and sent out. Using the enews via email did two things: I could deliver more timely information in a monthly format and save a bunch of trees in the process. It added a bit more to my plate but it also engaged me with what was going on in the cellar and vineyard on a more regular basis.
My format in those days-and the format has morphed and changed over time-was to lead with The Latest which, in the inaugural issue, highlighted an exciting new venture for our wines. We had just released our first wines bottled in screw caps: 2008 Sauvignon Blanc, Signature Selection Chardonnay and Dry Rosé of Zinfandel. I followed with Revealed which featured a list of recent medal winning wines. Released, featured our new releases along with The Family that highlighted fourth generation member Rose Proctor who worked the summer in the Tasting Room following her graduation from college. The Archives is where I noted some of our history and we were about to celebrate our 82nd anniversary so I gave the background on the founders, my grandparents. The Menu featured grilled pork tenderloin paired with a corn salad.
In the 10 years of editing the enews I have changed the format a few times, most recently because I started this winery blog called Vino in My Dino. it became the repository for my newsletter stories. Winery blogs were not a 'thing' back then and it allows me to share online and store them for all to read. A big change from those printed newsletters of long ago. Think about how newspapers and magazines have changed and the way we depend on the internet for most if not all of our information.
Other changes between the first issue and now include four more of our wines are now under screw cap, we are still receiving medals for our wines but more accolades come in from third party wine bloggers these days. Rose is on her life path in North Carolina and we are getting ready to celebrate 92 years here in our little corner of Dry Creek Valley. And the menu always features wine friendly recipes just like the first edition. Things change, things stay the same and I'll keep my eye out for any avenues to help communicate our family and winery stories.
Here is my first edition screen shot: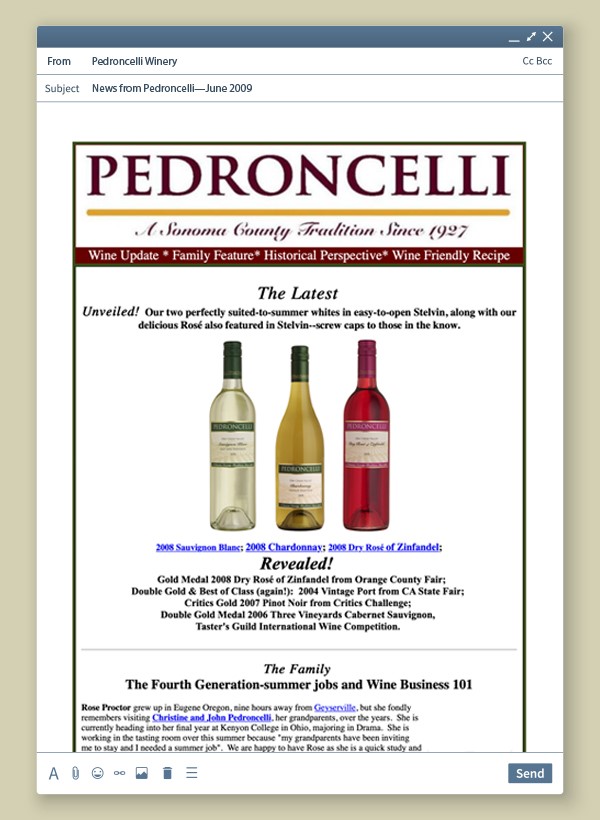 Categories
Recent posts
Popular tags