Vino In My Dino
May 15, 2020 10:45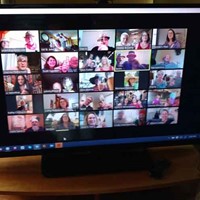 Welcome to the virtual world of wine chats. Chat rooms and virtual meetings were already in place before this-I wish I had stock in Zoom! Other platforms have their place but lately this is a way to have a direct conversation and talk to people face to face (virtually because we are sheltering in place and practicing our social distancing). Gathering around a glass of wine and your screen of choice while sitting at home-what could be more fun?
Back in the days (seems like so long ago now) I traveled to national markets the wholesalers would set up what we call 'work withs', a way for me to meet with retail and restuarant accounts. Each day I'd work with one sales representative and they would take me to appointments they had set up prior to my arrival. I would get in a car each day with a new person-who up until this point were complete strangers. Almost sounds like the making of a thriller movie right? We'd chat a bit about what was coming up for the day-how many appointments, who I would meet as I presented the wines and what they were interested in for their customers, where the day would end. I'd update them on what was going on at the winery and vineyards at the moment or fill them in on the background of the wines we'd be pouring. After a few minutes, in order to learn more about the person I was riding with, I'd start to ask general questions-did you attend college? How did you get into wine? When was your first 'ah ha' moment and what wine started the journey they were on? Conversation typically flowed because, hey, we're in a car driving 20 minutes or more to our first appointment and we learned a bit about each other. I rode with people who love some of the same things I do (besides wine) like Tom Petty & the Heartbreakers, favorite authors or genres, chocolate, and travel. While we weren't gathered around a glass of wine we certainly shared great conversations about many interests.
So how about turning that experience into one I can have with you? We'll sip and savor the moment, we don't need a car-we just need a communication platform. I do better when I can see people and share a conversation that way. Let's gather, share some stories and find out what we have in common-wine being the first thing. There are many platforms on which we can have a chat-we'll find one that works for both of us. We are at home, relaxed, maybe with a glass of wine in hand, ready to chat about your hobbies, your family, your pets, favorite movies or books. The world of topics is pretty vast.
Who's Zoomin Who?
Zoom is the appointment oriented platform-we set up the time and day and send you the link. Skype is available anytime but it would be wise to schedule a time so we are at our computer and ready for you. Facebook Live schedules events at a certain time and allows you to type in questions to the speakers (it helps to have someone else there to read over the questions and call attention to those that didn't get answered) and Instagram Live is a format where we talk to the audience about specific things and questions can be sent but it is mostly a one way conversation. Which one works for you? As we make our way toward new ways of reaching out, this is an alternative to a tasting room visit. So let's gather around a glass no matter where you are-it is the new wine adventure-one where you don't have to hop in a car or on a plane. We'll bring the adventure to you!
Categories
Recent posts
Popular tags