Vino In My Dino
November 2, 2020 11:08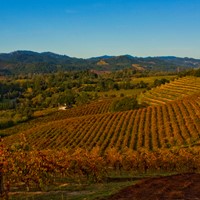 My monthly visit with Mitch Blakeley, fourth generation family member and vineyard assistant, was delayed because he and Lance, his father, took off for a vacation following harvest. Here is his report as Fall begins in the vineyards.
Clean up is the focus at this time of the year-routine for post-harvest. The vineyard crew's focus is on bringing nutrition to the vines and one of those is in the form of pomace-the dried skins and seeds left from the pressing of the new wine. This adds nitrogen to the soil and gives the vine a little 'pick me up' after the long growing season. More nitrogen will be applied right before the rains. Mitch noted we'll need a good solid rain for this-so we are waiting on the rain season to begin.
There is also some life in the canopy of the vines (leaves and canes are still green or turning color) so we'll water them through the drip system. This is par for the course as this practice usually follows harvest. Wouldn't you be thirsty after going through harvest? Usually the vineyard gets two irrigation cycles and this year a third because it is so dry. The next stage is putting the vines to bedthey need to go dormant before the next stage of vineyard work begins-pruning. When the ground temperature is too warm and the vine is pruned too early it might push out buds-way too soon for that so restructuring where their energy is put into is key. Irrigating softens the soil and helps the vines to go deeper and access nutrients. Roots go dormant when it gets colder and this is what we wait for-the temperatures to dip into the 30's.
Other prep work includes spreading hay which mitigates erosion along the vineyard avenues. This year there is time for basic clean up: the creeks and drainage ditches for flood control. There are larger projects down on Dry Creek-wild grapevines need to be cleaned out as they catch debris and causes erosion as the water backs up. Since harvest finished in September and the rain is staying away for now it gives us more time to do this type of project. Ultimately the watersheds will flow cleaner.
Many thanks to Mitch for the update. It is a different kind of fall-I read a report which noted this is the first time since 1897 that no rain fell in the months of September and October. Mitch notes the pumpkins on his west-facing porch scorched this year. History has a way of repeating itself. If we don't get the rains early, it will be a condensed winter. Because a lot of land has burned maybe the lack of rain will be good and save the hills from mudslides and deep erosion. As farmers we depend on the weather and look toward winter for rain and the continuation of the cycle.
Categories
Recent posts
Popular tags