Vino In My Dino
September 28, 2020 16:06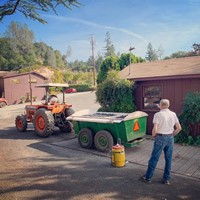 Vintage 2020 was one of the fastest harvests in our 93 years at Pedroncelli. It began on August 24 with Sauvignon Blanc and ended with our Cabernet Sauvignon on September 23. And this vintage year began with the pandemic and ended amidst it with all the accompanying safety guidelines in placed. A fire to the west of us complicated things with a brief evacuation followed by smoke high above the valley from the large Walbridge fire. Add a couple of high heat weeks and the grapes ripened along quickly. Reminiscent of the 2017 vintage which was equally as fast.
We follow the vineyard with Mitch Blakeley, fourth generation family member, who works with his dad Lance and is our Vineyard Manager and a key part of the winemaking team which also included Montse Reece and Polo Cano. He gave me an update on the grapes, the vineyards and the vintage:
"Just as we are picking the last load of Cabernet Sauvignon we are also back out in the vineyard preparing for winter by planting cover crop and fertilizing the vines. We are heading into a heat wave next week and we are buttoning things up so the vines can get some much needed rest.
The harvest overall was very quick and busy in that we picked every day between August 24 and September 23 except for two of the days. We don't pick on Sundays as well and this gives everyone a break to get ready for another busy week-rest, make plans, gear up.
I find this year similar to 2017 in that we had high heat over Labor Day weekend then and this year as well. The crop is also lighter and similar to three years ago. I learned more this year than I knew when I worked the 2017 harvest, that's for sure. To give an example at how quickly the fruit ripened I'll use our Zinfandel as an example. At the beginning of Labor Day weekend the fruit samples came back at 24 brix-we watched the brix (sugar) rise a degree per day and by Monday we had 27 degrees Brix-and we picked it as fast as we could to preserve the style we like in our Zins.
Aside from all the challenges we were on par for a great vintage. We'll now play the patience game and wait for the overworked labs to get us results to see if there is any smoke damage in the new wines.
A couple of other notes; we machine harvest about 15% of our vineyard: Sauvignon Blanc and Cabernet Sauvignon blocks that are cane pruned and able to withstand the machine taking fruit off. You need to have some age on the wood so it doesn't break off and damage the vine. Another anomaly this year was the amount of labor we had-his dad Lance noted it was like 30 years ago when labor was plentiful. The reason this year is because other wineries delayed picking or cancelled picking of vineyards and we had people eager to work."
Thanks Mitch for the update as we follow the vineyard through 2020. 
Categories
Recent posts
Popular tags