Vino In My Dino
August 25, 2016 12:31
My uncle John was winemaker for nearly 60 years. His first crush, 1948, was captured in the oral history J. Pedroncelli Winery: An Ongoing Family Tradition about that first year on the job as winemaker. He had just completed his World War II service and attended Santa Rosa Junior College. He was ready for his first harvest.
"Well it was (a monster crush) for three people. We crushed maybe 800 plus tons of grapes with the three of us, and the good part about it was that we had only one red variety to do. We didn't have to separate any varieties. Now we need to separate all these different varieties and it takes a lot more work. So we got the grapes crushed that year and probably sold it in bulk to someone. We were selling a lot of bulk to Italian Swiss Colony, Petri and Gallo was on the scene. We weren't making a lot of money doing that, probably got about forty-two cents a gallon for it. I don't remember what the price of grapes was at the time."
Brother Jim filled in the pricing: "I think grapes peaked out at $120 a ton during the war, then they dropped down to $40 or $50 a ton. I remember that one batch of wine I think we sold for about thirty-two cents a gallon."
John continued, "The cooperage was all redwood tanks. In future years, 1955 or 1956, we got our stainless steel tanks. But in the forties everything was redwood including the fermentation tanks.
Winemaking used the standard old-style method, adding yeast. I had a helper from Fessler Laboratories who tested all our wines for us. He took the sugar and alcohol, which are things I didn't do at the time. I had the poor guy do every fermenter, which was up and beyond the call of necessity."
A toast to John with some Zinfandel-which comprised the 'red variety' he refers to in the oral history.
Here John is standing in the cellar with his father Giovanni. The redwood tank to his left was one of many that lined the cellar. This photo is circa early 1950s.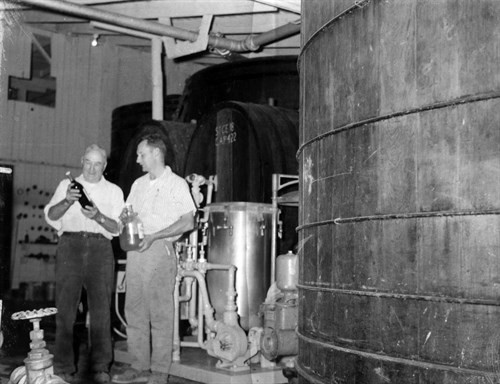 Categories
Recent posts
Popular tags