Vino In My Dino
July 26, 2019 16:39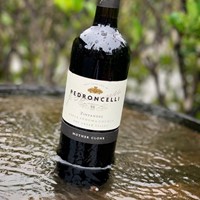 Just where does Zinfandel (the grape and varietal) fit into place in today's world of wine? How much Zinfandel is made these days? Finding Zinfandel's Place is about going back to the roots of grape growing in the area and discovering why was it such a popular grape. I'll also try to figure out what made it the preferred wine to make in those days and why is it still planted widely throughout Dry Creek Valley and other areas?
Let's start with production. There are roughly 44,000 acres of Zinfandel planted in California. Sonoma County is second on the list of most widely planted counties with just over 5000 acres. You've heard it before and I'll repeat-Dry Creek Valley has half of the Zinfandel planted in this county-the smallest of the four major appellations by the way and quite a concentration of one varietal.
At Pedroncelli it is the number one grape on our estate with 33 acres on the hillsides where it has been planted since the early 1900s. About one fifth of our case production is Zinfandel, about 12,000 cases, split between our Rosé, Mother Clone, Bushnell Vineyard and Courage. It is our flagship wine, and the flagship of this appellation. The numbers above, while reflecting only California grown Zin, don't include other areas where the grape does well. Among them the Yakima Valley in Washington, Barossa and Hunter Valleys as well as Margaret River in Australia, and South Africa.
Records from the Gold Rush days show that Zinfandel was planted by the mid-1800s. In Dry Creek Valley the grape took root and was a favorite of home winemakers and budding wineries. Even during Prohibition it remained popular and is the reason why we have vineyard to this day. The wine made during those days was approachable and easy to enjoy early on-not much, if any, aging and a quick turn-around for consumption put the wine on the table in a few months.
The quality of Zin grown today in Dry Creek Valley is stellar and stands on its own with the one-two punch of berry-pepper and the rounded, mild tannins. The combination makes for a food friendly wine. This is where Zinfandel finds its' place-balanced between the ripe fruit and pepper spice quality. Picking the fruit at a time when the acidity gives the wine structure. Aging for a year in barrel to add smoky notes. Its' place is there at the table with a story to tell, one that captures your imagination and creates a legacy of enjoyment.
Today Zinfandel has its' place on wine lists and in wine lover's minds. It even has its' own fan club-just ask ZAP (Zinfandel Advocates & Producers) one of the most focused and longest running varietal trade groups. They have dedicated a celebration of California's grape for over 30 years. You'll find Zins' place there among the many fans tasting and comparing the styles from all over California and beyond.
Categories
Recent posts
Popular tags