Vino In My Dino
July 6, 2016 13:21
Red wine in the summertime? Some say it is too hot but here are my ideas to make it more enjoyable.
In the early years of representing our winery at public events I was pouring at an outdoor wine tasting in mid-July. It was a HOT summer afternoon. I recall it was a focused event on Chardonnay and Cabernet Sauvignon hence the inclusion of red wine on a hot afternoon. The sun was glaring off of our tables and bottles as we poured and visited with the attendees, making our Cabernet too warm. One of the attendees said "be a Boy Scout, come prepared" and told me to ice down the Cab. I proceeded to cool it down-even though a part of me was shocked at 'chilling' red wine.
The effects of a warm red wine are not pleasant in the glass. Any of the alcohol will start to throw off unpleasant aromas as you swirl your glass. Aroma is our introduction to the wine and when too warm won't give us the best side of the wine and doesn't taste good either. Our goal, as wine imbibers, is to make sure all aspects of wine service are covered. No matter whether you are on a picnic, at a backyard BBQ, dining in a restaurant or sitting on your front porch if it is a warm day be that Boy Scout and come prepared.
The secret is not to chill red wine all the way down. You want what is considered 'cellar' temperature which is between 55 and 60 degrees. When it is 95F outside your bottle typically follows suit. Achieving close to cellar temperature is easy-all it takes is a container, water and ice. Water helps distribute the cooling effects of the ice more quickly-and we all want access to our glass of wine fast, right? Even some restaurants store their red wines too close to the hot kitchen so don't be afraid to ask for the ice bucket and set your bottle there for a few minutes to cool it back down. The key in all cases is a few minutes-more than that will close down the aromas and flavors. You can always put the wine back in for a quick dip if needed. So with that advice, I'll pour a little Cabernet in my Dino and toast our warm summer nights.
Ice, ice baby. Enjoy a (slightly) chilled bottle tonight!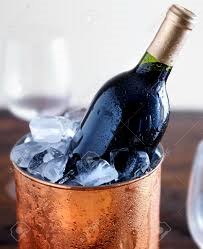 Categories
Recent posts
Popular tags