Vino In My Dino
March 4, 2016 17:18
Barrel Tasting Weekend is here, the annual event sponsored by the Wine Road. Begun 38 years ago with a few barrels scattered around northern Sonoma County, you brought your own wine glass and bellied up to educate your palate. Today the event is successful and draws visitors from all over California and the U.S. It has evolved, changed with the times and at many wineries you can now buy futures.
So what is it about tasting a wine from a barrel that educates your palate? If you plan it right, by reviewing what each winery in the area offers, you could do a few things like focus on a varietal or a sub-appellation, drill down to either white or red wine, take a look at a specific vintage. By tasting wine thieved from the barrel you'll be met with some young wine issues including heavier tannins and that awkward teenage stage where the wine is still developing. This is also the time to ask questions about what type of oak, how long the wine will age as well as other winemaking info.
We are offering our Wisdom Cabernet Sauvignon that has been in the barrel for over one year. It will age an additional 4 months before bottling. It is still reaping the reward of time in the barrel-the most important feature of aging. Slowly over the months the wine has slowly, painstakingly oxidized where the water evaporates making it more concentrated. The process also softens up the tannins in the wine, making a more palatable, if you will, Cabernet. Either way, you will end up with an education. A toast with some 2014 Wisdom Cabernet Sauvignon (our barrel feature) in my Dino.
Montse Reece, our winemaker, thieving samples for Barrel Tasting a few years ago.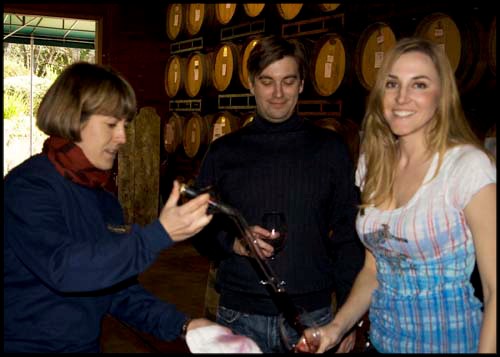 Categories
Recent posts
Popular tags