Vino In My Dino
March 29, 2022 15:23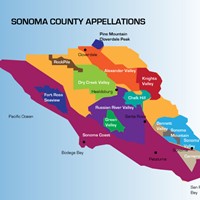 Spring is a great time to focus on the earth and the future bounty of a harvest what with the vineyards  beginning the growing season with budbreak just two weeks ago. This month also happens to be Down to Earth Month, established several years ago by Wine Institute's California Sustainable Winegrowing Alliance program, to celebrate sustainability in both vineyards and wineries. A few years later Sonoma County Vintners established Sonoma County Wine Month to celebrate the wines from our region. Put the two together and you have a celebration of all that is good about wine and winegrowing.
Down to Earth Month in California celebrates sustainability among the many vineyards and wineries taking a page from Earth Day which is April 22. There are many chances to visit the wineries and vineyards to see the growing season in action, to learn about sustainability and to revel in the beauty of the land we call home.
What sustainability means along with our own certification journey. The California Sustainable Winegrowing Alliance was formed to help grape growers and wineries practice sustainable winegrowing by following these tenets: good for the environment, good for the community and good for grapes and wine. To start the certification process at Pedroncelli, fourth generation member Mitch Blakeley was tasked with answering a few hundred questions ranging from energy efficiency to packaging, vineyard practices and water use among others. Once finished we were audited and, since everything was in good order, we were certified in 2017 in the vineyard, just in time for our 90th anniversary. Our winery followed the next year. One of the reasons I like the sustainability program is it encourages doing better as we go forward. Each year we pick a project and work at getting better or smarter in both the vineyard and winery. The auditor then reviews the progress and recertifies us.
The big picture: There are 5,900 growers who farm 620,000 acres of winegrapes in 46 of California's 58 counties. Did you know vineyards cover less than one percent of the state's terrain? There are 4,200 wineries that produce over 81 percent of all U.S. wine. Here in Sonoma County there are over 400 wineries farming 60 varieties with 62,000 acres of grapes farmed by 1800 growers. That makes 6% of all land in the county covered by winegrapes which leaves lots of room for our coast, redwoods and cities & towns. Sonoma County Wine Month is the perfect time to celebrate the rich heritage of wine here so why not get Down to Earth and enjoy visiting us in person or virtually-it's your choice and we look forward to seeing you soon.
Categories
Recent posts
Popular tags