Vino In My Dino
January 24, 2019 10:06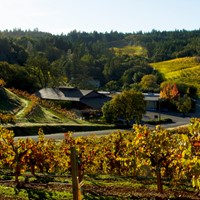 I am taking you to the original founding property for our tour of Dry Creek Valley neighborhoods in part 3. When Giovanni and Julia purchased the property in 1927 it came with 25 acres of vineyard first planted in 1927. This little corner of Dry Creek Valley-actually in the north east quadrant just a mile from Highway 101 and a few miles from the town of Geyserville which we call our home town. We are the only winery on Canyon Road but there are other vineyards planted along the 3 mile stretch and there's a cemetery too.
Each one of these hills surrounding the winery is really its' own microclimate or site. Many of these blocks have been planted to two or more varietals over the 9 decades we have been farming them. What once was Pinot Noir is now Zinfandel; what once was Sauvignon Vert gave way to Cabernet Sauvignon then Petite Sirah and now Cabernet Sauvignon again. The life cycle of a vineyard is generally 20-25 years before a farmer decides to start the replanting process. With the exception of our Zinfandel vines many of the vineyard blocks on the home ranch are fairly young having just been replanted a few years ago.
The beauty of this property is the rolling hillsides that were made for growing great Zinfandel-33 acres of it in fact. Ranging in age from well over 100 years to just 5 years old and an acre just cleared to make way for the next planting our gnarled head pruned vines stand the test of time. The beauty of Dry Creek Valley as an appellation is that more than one type of grape can grow here. We have Sangiovese, Petite Sirah, Syrah, Cabernet Sauvignon and four Portuguese varietals (Tinta Madeira, Tinta Cao, Touriga Nacional and Souzao) growing along with the Zinfandel and totaling 50 acres. Other grapes have had their time here but site specificity (what varietal does well on a particular hillside) is what gives way to the great results from planting the best suited variety.
Soils here are pretty rocky-much of it river rock from long ago when the land shifted up and down with the earthquake faults and bodies of water carving their way through the land. Hillside land tends toward a scarcity of topsoil too so the vines are challenged to grow in what many consider poor conditions. Thanks to both the heartiness of the vine and newer technology like drip irrigation the vines establish themselves even in thin soil and the metered water supply gives the vine much needed and the right amount of water to thrive. On to the next neighborhood, one that has been in the family for over 60 years: The Bushnell Vineyard.
Categories
Recent posts
Popular tags